What should be noticed when to design solar LED landscape light?
Publish Time:2018/08/08 FAQ View:170
Nowadays, we can often view a lot of beautiful lights along roadway, especially in some public garden, most of them are solar LED landscape light. It has various colors, In many public gardens, all of solar LED landscape lights would be turned on in night, what it is so beautiful colorful scenes! While solar street light just need one color lighting for illumination. Usually, the appearance structure of solar street light is simple, while the structure of solar LED landscape light is complicated, because it is for night lighting decoration. Usually, most of tourist spots would install solar LED landscape light.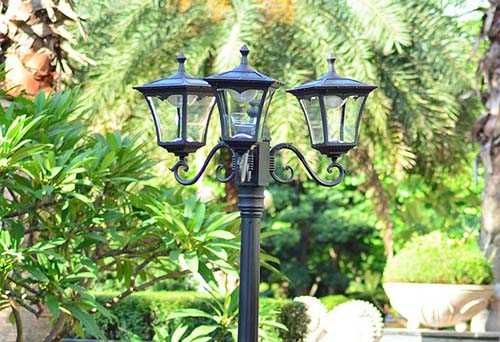 Some issues should be noticed when to design solar LED landscape light.
1. The lighting beams of Solar LED landscape light exist as diffuse light. The diffuse light wouldn't have more shadows, which is difference with direct light, it seems softer to make color brightness or dim. But the diffuse light of solar LED landscape light should solve the problem that its lamp surface would have high heat. In terms of current popular solar LED landscape lights in market, there is so few products being able to solve this problem.

2. The calculation of angle. It would balance between function and landscape. For example, if to consider the landscape design, then it should present its landscaping function, at the same time, it should meet customers' requirement for function.

No matter it is single LED or multi-LED, the suggestion peak current is 10mA~20mA to drive each LED. The instant current would damage LED if its peak current is high. Solar LED landscape lights have been widely used for urban establishment decoration, which has presented its value. Currently, there are a lot of solar LED garden lights in market, prices are complicated as well, which is the outcome of profits that the light brings. In order to reduce prices and get more profits, some manufacturers use low cost materials to make it. However, prices are not the unique importance, most of customers require high quality with reasonable prices. In order to push the solar lighting industrial development, bingsolar dedicates to research and develop outdoor solar LED landscape light. Basing on our advanced technological equipment and professional engineer team, more and more creative solar LED landscape lights have been designed by bingsolar.
Bingsolar Power, 8th, August, 2018