30W Outdoor IP65 Solar Powered Led Street Light with Lithium Battery Built-in
| | |
| --- | --- |
| Item | BSD07-30W |
| Brand | Bingsolar |
| Solar Panel | 40W polycrystalline solar panel |
| Lithium Battery: | 15.6Ah |
| Power of Lighting Source | 30W |
| Charging Time: | 7H~9H |
| Discharging Time: | 3 nights (2 rainy or cloudy days) |
| Lighting Mode: | 4h 100%, 2h 50%, then turn to 25% brightness |
| Lumen | 1650LM~2000LM |
| Waterproof: | IP65 |
Detail Parameter
Working Principle for the solar powered LED street light:
Solar LED street light is to adopt solar power, its inside battery store electric power in daytime, micro computer program controller control over-charge and over-discharge and being automatic to bright, solar powered LED street lighting system is a set of independent distributed power supply system, it is not limited by regions, not influenced by installation site, also no need excavate road surface to pave cables and bury conduit, it is very convenient to construct and install, no need substation system, no consume grid electricity, it is environmental friendly and energy-saving, great comprehensive economic effectiveness, especially for the establishment roadway, it is very convenient to install solar powered LED street light. Especially applying for the off-grid street light, outdoor advertising board, bus station where are far away from State Grid, its economic effectiveness is more obvious.

Characteristics for the Solar Powered LED Street Light:
1. Energy-Saving, Environmental Friendly, Maintenance Free.
2. It is easy to install, long lifespan.
3. Low voltage, safe application.
4. Wide Application.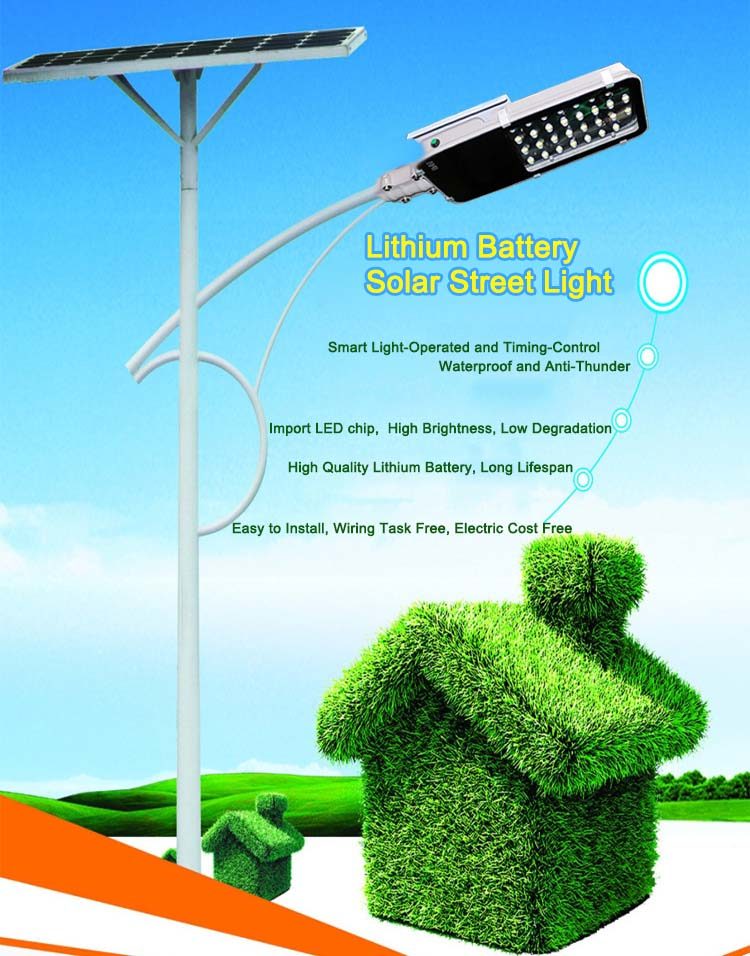 Product Parameter:
| | |
| --- | --- |
| Solar Panel: | 40W |
| LED Lamp Power: | 30W |
| Lithium Battery: | 15.6Ah |
| Waterproof: | IP65 |
| Charging Time: | 7H-9H |
| Discharging Time: | 2 rainy or cloudy days (3 nights) |
| Lifespan of Solar Panel: | 25 years |
| Lifespan of Lighting Source: | 50000 hours |
| Lifespan of Battery: | 5 years |
| Lighting Source: | High Lumen LED |
| Control Mode: | Light-Operated and Timing-Control |
| Lighting Mode: | 4h lighting as full power, 2h lighting as half of full power, then turn to one fourth of power. |
| Anti-Thunder (Exterior): | It is suggested to embedded install lamp-post, cover connects with land to anti-thunder. |
| Anti-Thunder (Interior): | It has TVS anti-thunder and good craft. |
| Size of Lamp Head: | 470mm (length)*210mm(width) |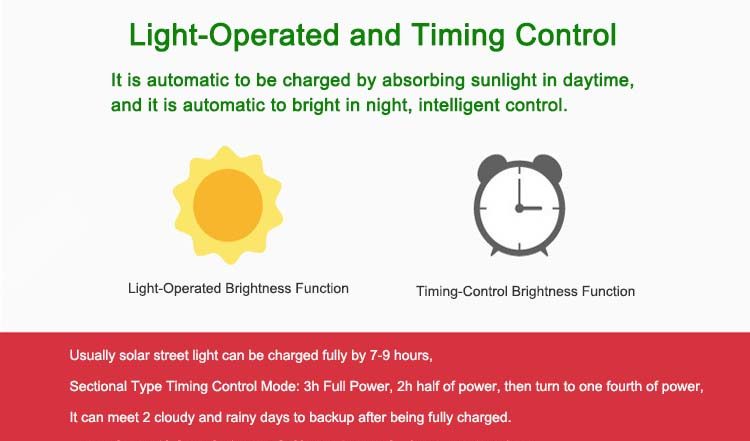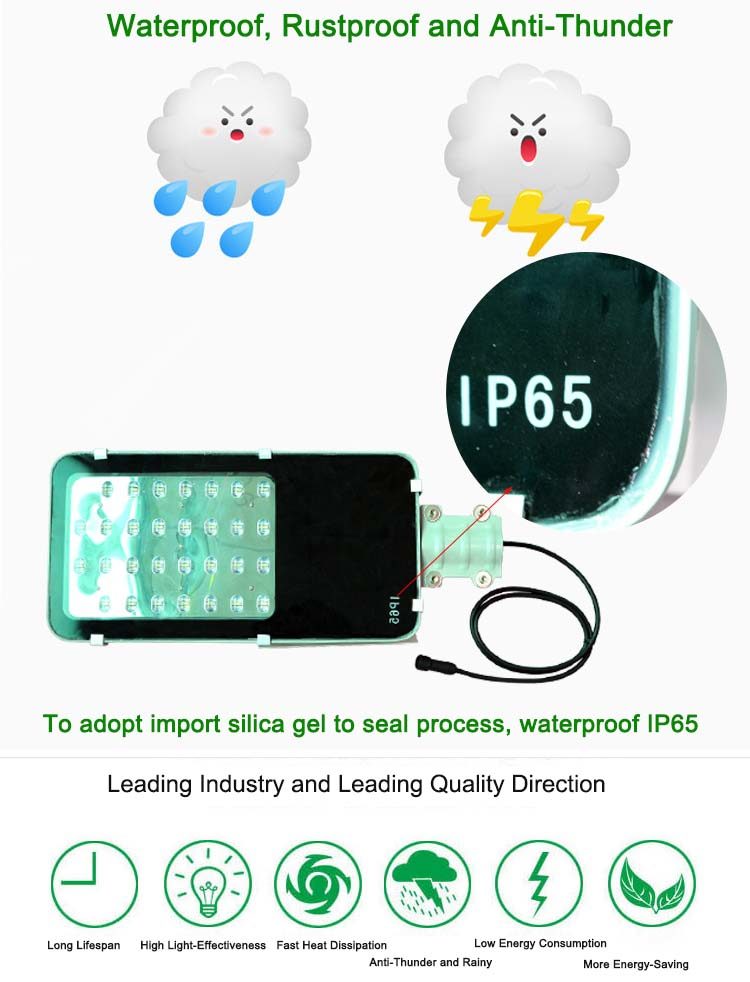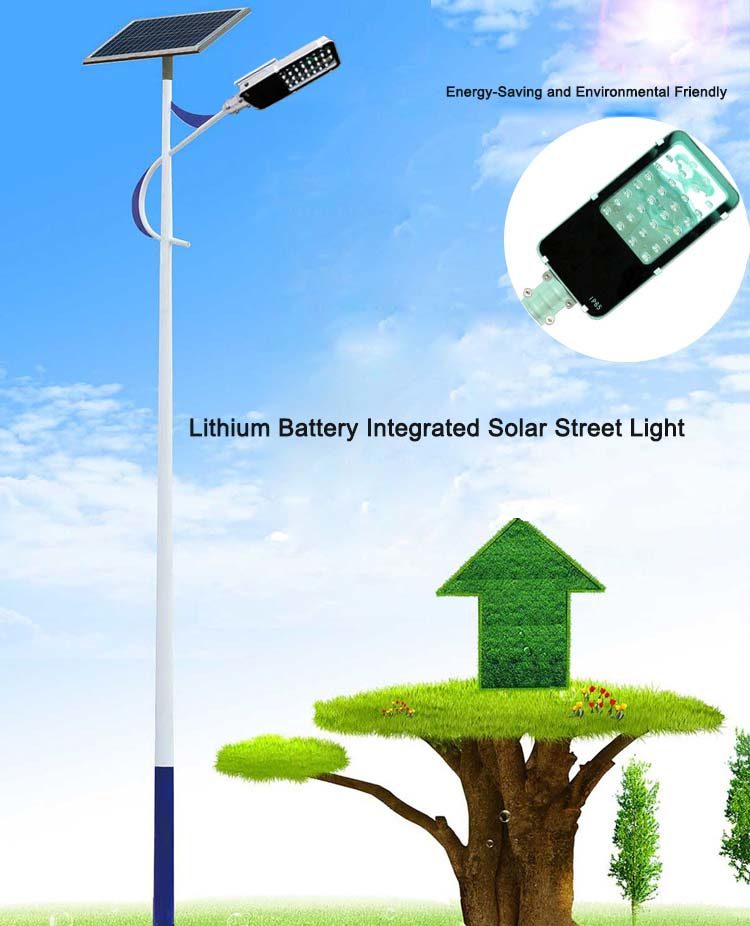 Detail Presentation for the Solar Powered LED Street Light: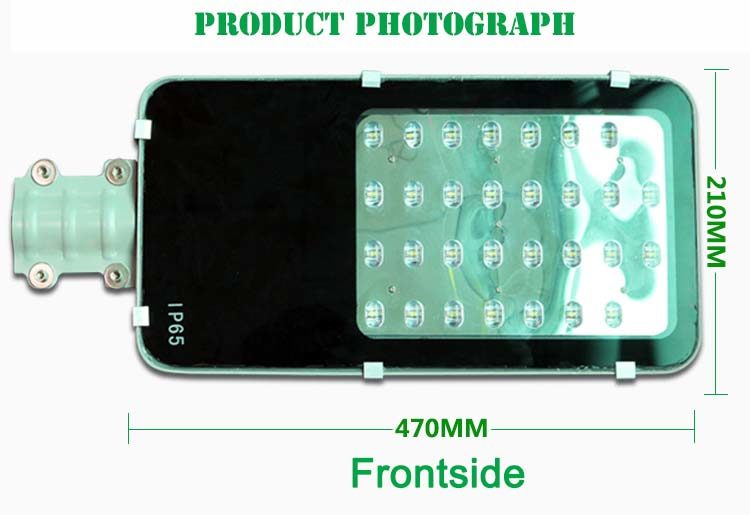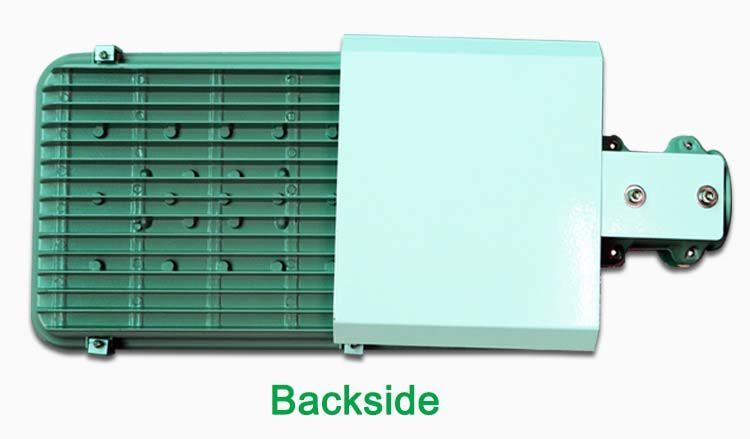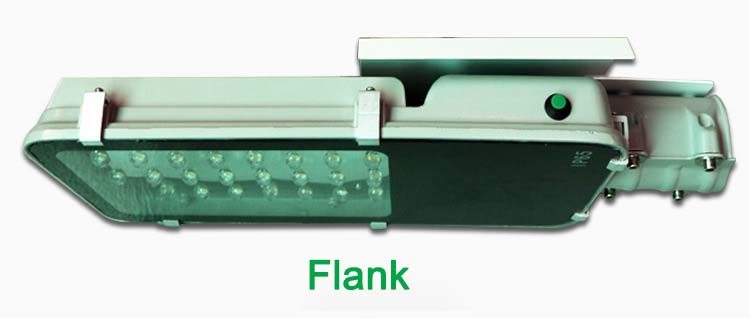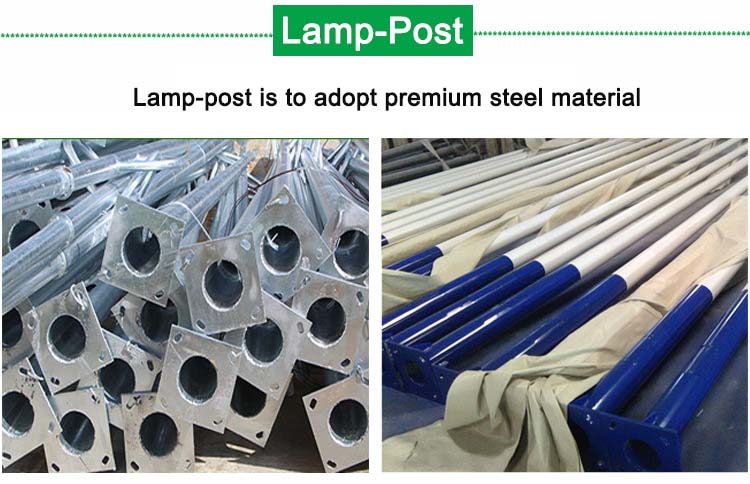 Core Advantages for the Solar Product: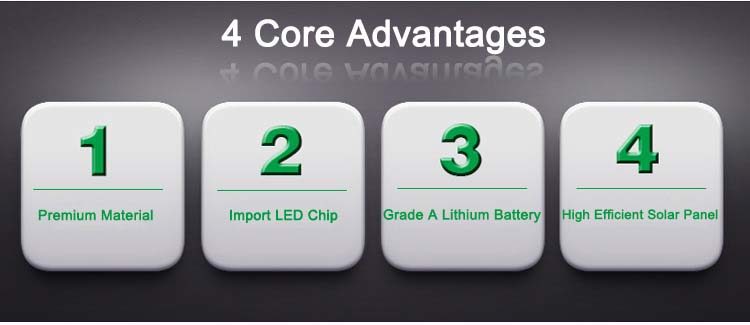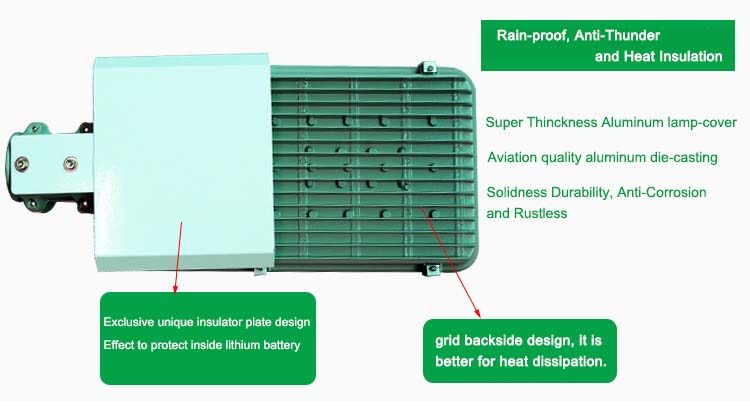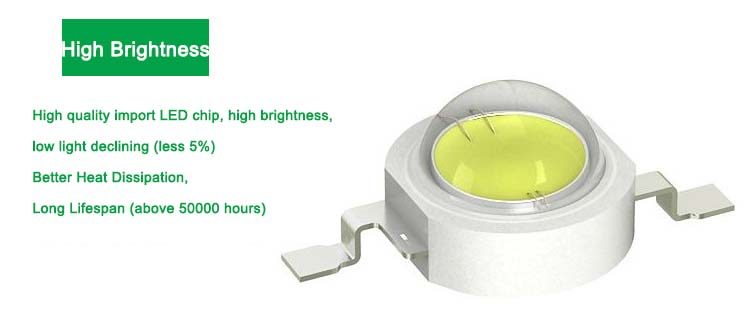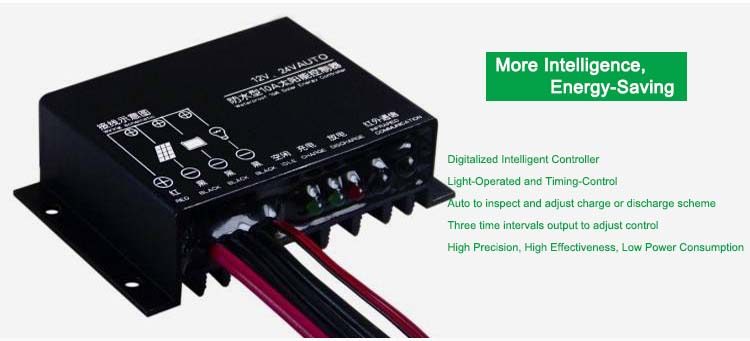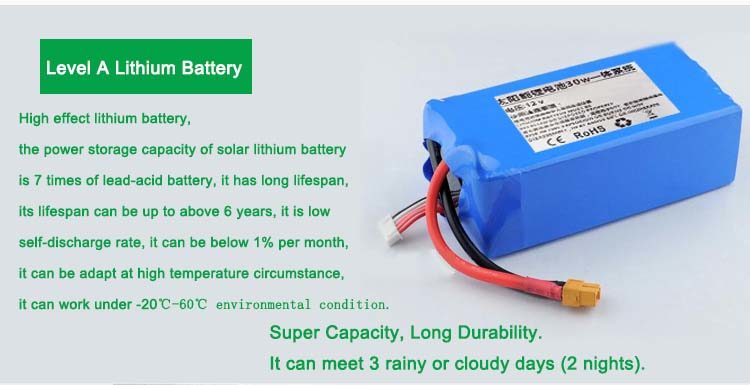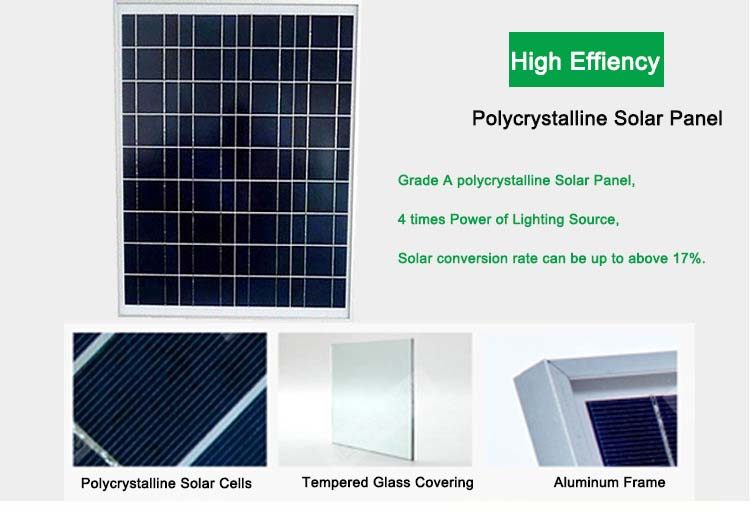 Wide Application for the Solar Powered LED Street Light: