What is Working Principle for Outdoor Solar Landscaping Light ?
Publish Time:2018/07/13 FAQ View:309
Outdoor solar landscaping light is charged by solar power in daytime, and provide illumination for roadway in night, to be designed by high lighting-effectiveness illumination lighting source, it is light-operated and timing-control, it is super brightness, easy to install, stable and reliable operation, no need pave cables, no need consume conventional energy and long lifespan. Outdoor solar landscaping light has its own high ornamental value, and emphasis the landscape of artistic lamp and historical culture of tourist spot, it coordinates with its circumstance, to decorate scene by its various sculpture, lighting color and brightness.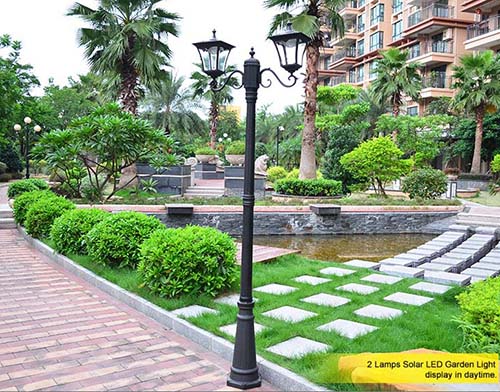 The Working principle of outdoor solar landscaping light.
The characteristic of solar panel is to convert solar power into electric power. There are many materials being able to Photovoltaic effect, such as monocrystalline silicon, polycrystalline silicon, etc. Their working principle is the same, now let us take crystalline silicon as example to describe its lighting process. N type crystalline silicon can be got by adding phosphorus into P type crystalline silicon, to form P-N junction. When sunlight radiates on the surface of solar panel, some part of photon is absorbed by silicon materials. The power of photo is transmitted to silicon, to make electron jumping and become free electron, these free electron gather surrounding P-N junction and form potential difference, when loads connecting with the terminal of the P-N junction, the current would be produced under the function of voltage, and to have some output power. The substance of this process is that the power of photon converting into electric power, which is carried out by solar panel.

Nowadays, outdoor solar landscaping light has been widely applied for urban roads, community roads, industrial park, rooftop, green belt, Plaza, pedestrian street and walkway, etc. Its main function is to decorate and illuminate these areas. The combination of solar panel and LED lighting source is the perfect technological improvement, it not only improve lighting-effectiveness, but also accelerate the development of environmentally friendly lighting products.

Solar lamp, its brightness is the same as the LED lamps which are powered by grid electricity, technology has been changing the life, the revolution of LED lighting fixture is coming.
Bingsolar Power, 13th, July, 2018