Why is LED being chosen for the Lighting Source of outdoor solar street light ?
Publish Time:2018/06/29 FAQ View:266
For most of government's projects, when to establish outdoor solar street light, LED is also chosen for lighting source, that is because LED has many advantages.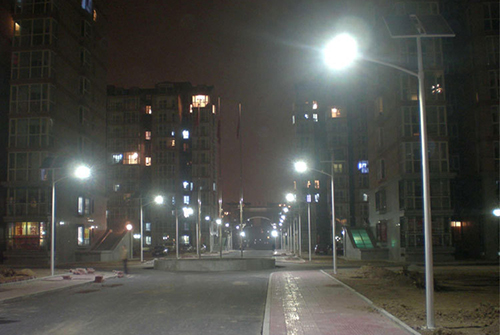 1. Outdoor solar street light has great lighting-effectiveness.
For outdoor solar street light, when LED chip is being chosen as lighting source, it would have high lighting-effectiveness, and it can guarantee that the power consumption is very small when the LED lamp is working, which has prolonged its lifespan. At the same time, its temperature is low during illuminating, which also can guarantee its long lifespan.

2. It has better safety-performance.
That would be very safe and reliable to adopt LED as lighting source. In addition, the unit side of lighting source is very small, it can keep the requirement of environmental friendly.

3. Power Consumption is Small.
LED as lighting source can keep low power consumption. Even it is in the same brightness, its power consumption is just one tenth of incandescent light. To adopt LED as lighting source, solar lighting system can show its obvious advantages. Due to adopting LED as lighting source, outdoor solar street light has got rapid development in recent years.

Above is to briefly introduce the main advantage of LED which is to be adopted as lighting source of solar street light. For government's project, it brings huge advantages to utilize solar street light, and it can improve the quality of cities' lighting system. Recently, more and more government's projects have chosen outdoor solar street light to replace traditional street light, which has proved the economy of solar lights. Someone is worried that the power from solar panel is insufficient to provide power for street light, in fact, this issue can be solved. For example, if we use a new technology to make the solar street light work as 100% brightness at the first 5h, and then work as 50% to dawn, which has solved this issue, in fact, the new technology has realized and widely applied in most of solar street light.
Bingsolar Power, 29th, June, 2018