What is dimming technology and development for LED outdoor flood lights in future?
Before talking about the dimming technology and development for outdoor flood lights, let us to learn can we repair by ourselves if our LED outdoor flood lights have problem.
Indeed, LED outdoor flood lights can be repaired, but non-professional person can't repair them, it is suggested to ask for the manufacturer who produce the LED outdoor flood lights to repair. But usually many lighting manufacturers don't want to help to repair, because it is more difficult to repair than to manufacture a new one. It is suggested to purchase the high-quality LED outdoor flood lights to avoid many trouble problems, of course, the premium LED lighting would be higher cost, usually, quality manufacturers would provide 2-3 years for warranty.

1. The Main LED Dimming Technology.
The first method is to get through adjusting the LED driving current to realize the LED dimming, because the brightness of LED chips and LED driving current have fixed proportion.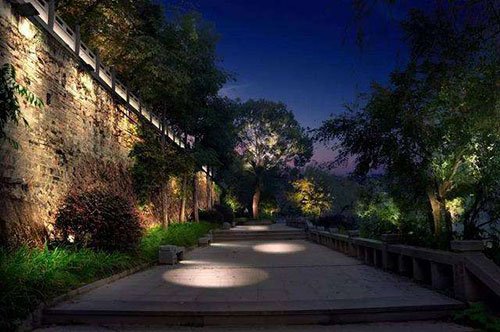 The second dimming is also said as simulation dimming mode or linear dimming. The advantage of this dimming is that the current of LED chips would get change when driving current is linear increase or decrease, which would control this circuit to reduce the attack-effect of driving current. Its disadvantage is that the change of driving current would influence the color temperature of LED chips.
The third method is Pulse Width Modulation (PWM). This method is through some control to make driving current become square, the duration time can be changed by adjusting the width of pulse, it also can change the output of rated power to realize the function of energy-saving. The frequency control is from 200Hz to 10KHz. The advantage of this method is that the frequency control can improve LED heat-dissipation. Its disadvantage is that the attack-effect of driving current would have some influence to the lifespan of LED chips.

Above three LED dimming methods are classified according to the output of LED driving current. The control circuit also can be classified as simulation control and PWM control, Usually, the control circuit is accomplished by micro controller.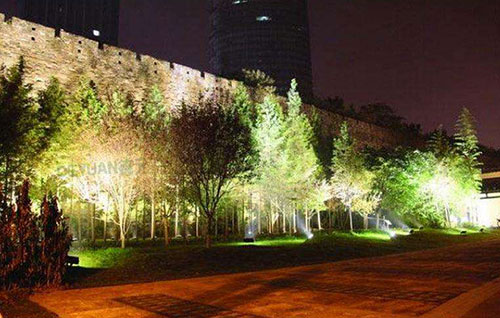 2. The Dimming System and Future Development.
The perfect intelligent control should include hand-control, smart-control, light-control and the function of warning for fault. The LED outdoor flood light would start to bright after sunset, its brightness can be reduced to half in the later half of night. The solar lamp would be automatic to turn off after sunrise. In some special condition, it also can be controlled by hand. The control system would have warning to remind when the control has any fault.
Smart dimming system includes server, CPU, single unit controller and signal detection circuit.
Server: Host and Computer Software, its main function is to realize supervise and warning function. The server is in the control center of lighting management, and the connection of CUP can be loaded by electric cables, internet or wireless to achieve.
CUP: Its function is to receive signal from server, and send to controller, to control and detect signal, it also sends result to decoding unit of server.
Signal detection circuit: To detect the lighting condition of circumstance, the voltage and current of LED driving, and deliver the detection signals to unit controller or CPU.
Unit controller: Each LED lamp would match a unit controller, through receiving order, to deliver signal to CUP.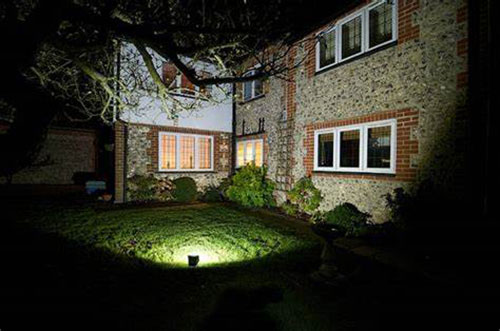 Currently, the dimming system technology has got great improvement, it is not just used for LED outdoor flood light, it is also used for roadway. With the widely application of LED lights, the long lifespan and reliability need still be considered at the first, recent years, LED lighting products are becoming more and more long lifespan, to some content, the application projects of LED lighting would be inevitable to forward the intelligent lighting control system in future.
Bingsolar, 31th, March, 2019