Indeed, Solar LED Wall Light can enrich our daily lives
With the technological improvement, the technical combination of solar Photovoltaic and LED have got mature. More and more solar LED lighting products have been designed to enter into market. Solar LED wall light is one of popular solar lighting products and it is the outcome of human's living improvement. The reason why solar LED wall light is popularly welcome by customers is that it can enrich our daily lives. Currently, a new solar LED wall light is just designed to meet customers' different requirement. Now let us view it.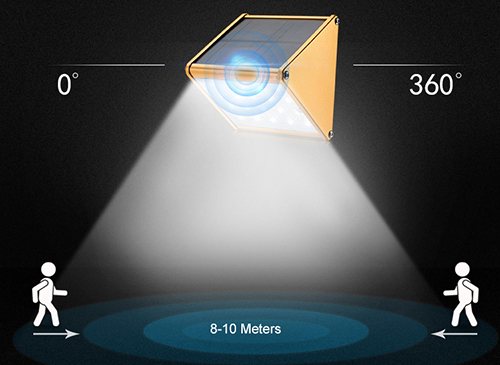 In the past, just traditional LED wall light can be used for outdoor lighting, but most of customers don't want to pay so much electric cost every month. Meanwhile, solar PV module is rapid development for rooftop, at this time, solar panel was integrated to LED wall light. After entering market, solar LED wall light has got warmly welcome, many customers said that solar LED wall light has perfectly solved the problems that they concerned, such as electric cost free, wiring task free and environmental protection, at the same time, it is very easy to install on the wall. To compare traditional LED wall light, solar LED wall light also need integrates the technology of motion sensor, which is to save energy. As we know, the dimension of solar panel is very limited in the top of LED wall lamp, and the efficiency of solar panel is just around 17% (the efficiency of solar cells is around 21%) at current technology. Therefore, motion sensor has been adopted to save this problem.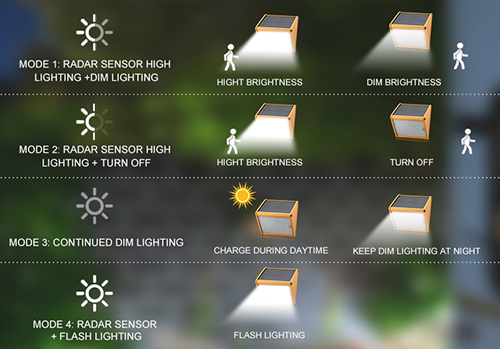 In our daily lives, solar LED wall light has presented obvious advantages:
1. It is security LED lamp.
Solar LED wall light is driven by DC, it is low voltage and low current to work. No need pave cables, no having potential hazard. At the same time, it is a kind of energy-saving lamp, its conversion rate of electricity to lumen is nearly 100% because it is low power to work. To compare with traditional lighting source (such as incandescent lamp), its lumen-effect is higher than 80%.

2. Long Lifespan.
Definitely, LED chip has super-long lifespan, LiFePO4 battery has longer circular lifetime than lithium battery. In addition, aluminum alloy lamp-body is better than ABS, which has made whole of the solar LED wall lamp to work more long time.

3. Environmental Protection.
Its spectrum doesn't have ultraviolet ray and infrared ray, so it doesn't have radiation, dazzle is small. In additional, it is very easy to recycle, it doesn't have poisonous elements, such as mercury, solar LED wall light is typical environmental protection lighting product.

4. High-Tech Lighting Product.
To compare with traditional lighting source, solar LED wall light is low voltage and micro-electronic product, it has successfully integrated the technology of computer, internetwork communication, image processing and embedded control, etc, which is digital electric product, it is leading advanced technology for semiconductor photoelectric device.


As above description, in order to overcome the problem of energy-saving, many advanced technologies have been integrated. Solar LED wall light is charged by solar in daytime and work in night automatically. You would get illumination when go back home after getting off work in night. Moreover, it also can illuminate neighbors and walkers if you install it on the outdoor wall. We can imagine that solar LED wall light has brought a lot of convenience for our daily lives.

Bingsolar, 22th, November, 2018