6.32KG 32Inch LED Display Solar Powered TV with 13.2Ah Lithium Battery Built-in
| | |
| --- | --- |
| Product Name: | Solar Powered TV |
| Item No.: | BSP-TV32 |
| TV Size: | 32" LED display |
| Solar Panel: | 40W/18V poly with 10m cable |
| Lithium Battery: | 13.2Ah/ 11.1V |
| DC Output: | 3 Ports/12V |
| DC Input: | 12V/5A (Solar PV Charger) |
| LED Lamp: | 2pcs 3W with 5m Cables |
| Charging Time: | 15h ~ 16h by Solar |
| Working Time: | 8 hours (TV Only) |
| Size: | 735*435*13mm |
| Weight: | 6.32KG |
| TV Signals: | Option |
Detail Parameter

Briefly Introduction:
Our solar powered TV is a creative technical innovation. As we know, currently, still a lot of areas are lack of power electricity, such as countryside and remote areas, etc. These people who are in the remote areas also have requirement to watch Television, but as shortage of power electricity, they have no choice to watch football game, basketball game, CCTV and movies, etc. Now the solar powered TV is invented to meet their requirement.  They can watch movies and play games in the solar powered TV, it can be charged by home electricity and solar. It is also very useful for the areas where always be power cut-off.  Technology is to change human's lives, to make lives be more beautiful.

How to realize function of the solar powered TV?
We integrates a portable solar storage in backside of the Television, 13.2Ah lithium battery built-in, the TV is specially designed to be compatible with the small solar generator in its backside. The inside lithium battery need be charged by 15h ~16h if only use the 40W solar panel, but it also can be charged by home adaptor. Namely, it is very suitable for the areas where is shortage of power electricity.
TV integrating solar storage is solar powered TV, after detail calculating and test by our engineers, the TV is special designed, and its electronic parameter can guarantee the solar powered TV integration perfectly work well. Besides to watch TV, the backside integrating solar power storage also can provide power supply for LED lamps, DC fan, phone charging and camera, etc.

Product Display: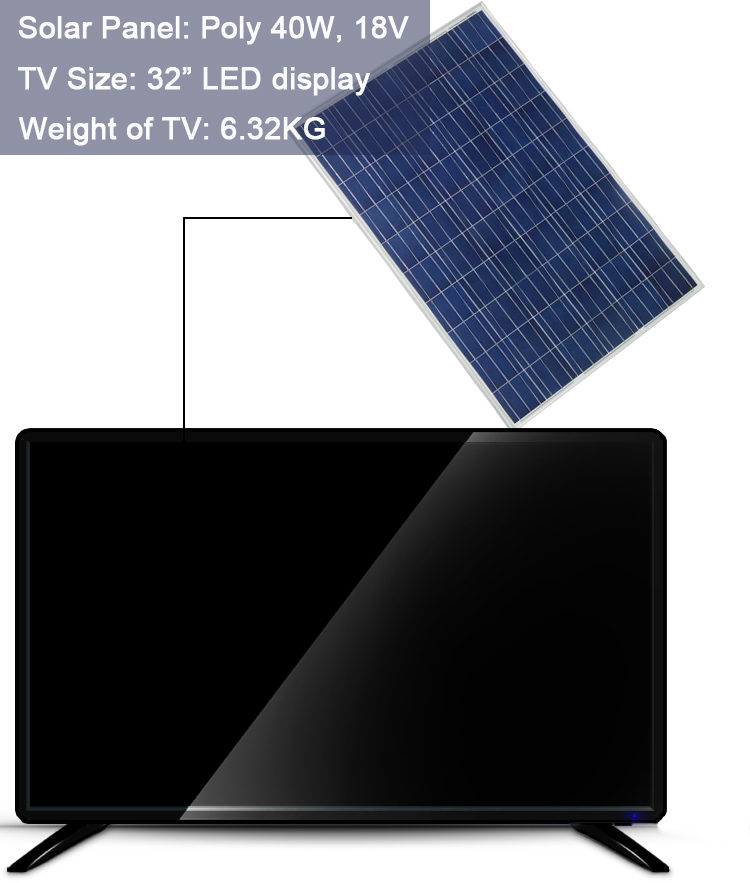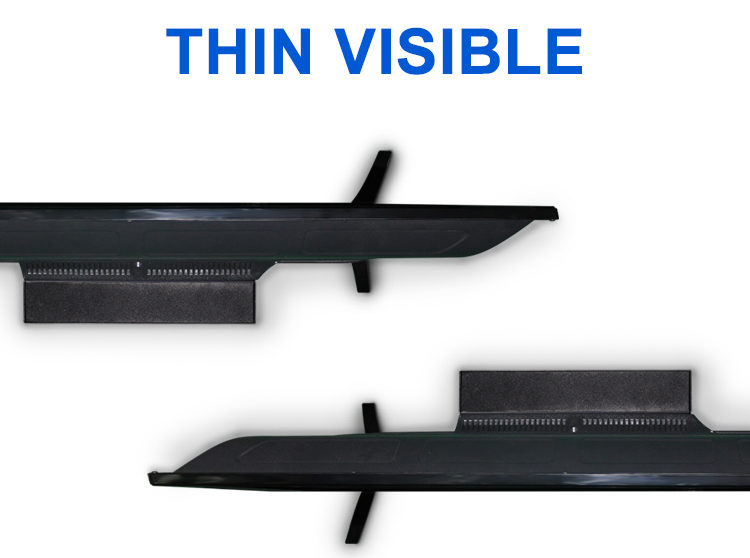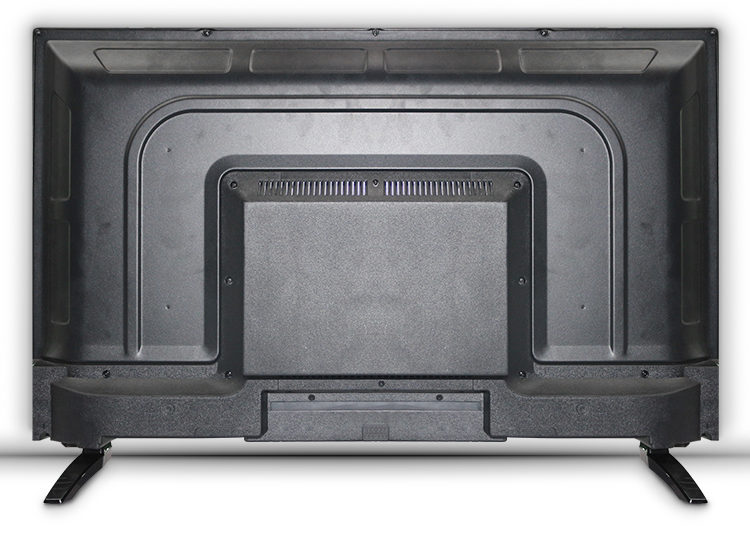 Product Parameter: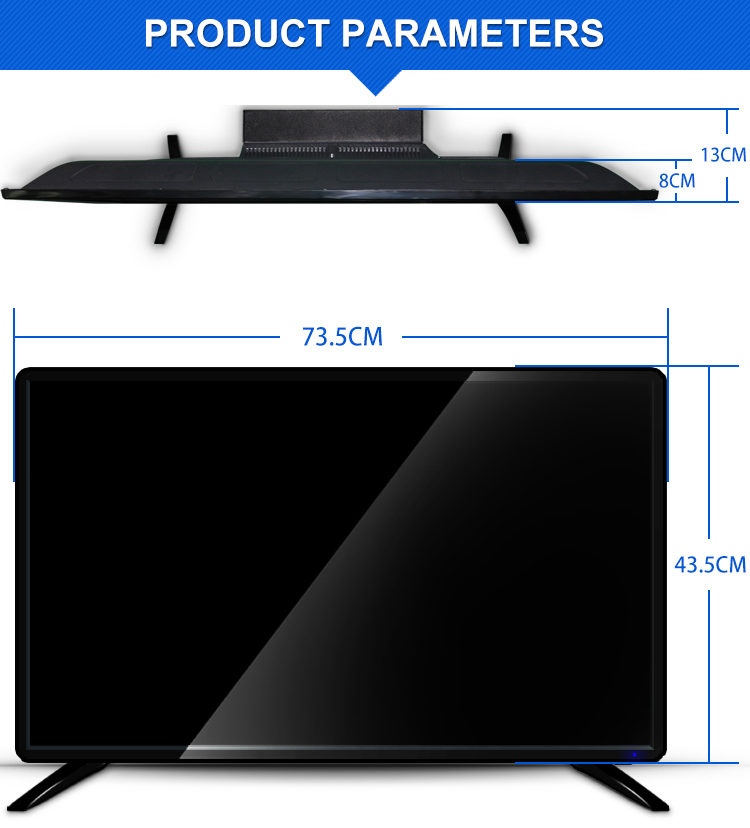 | | |
| --- | --- |
| Product Name: | Solar Powered TV |
| Item No.: | BSP-TV32 |
| TV Size: | 32″ LED display |
| Solar Panel: | 40W/18V poly with 10m cable |
| Lithium Battery: | 13.2Ah/ 11.1V |
| DC Output: | 3 Ports/12V |
| DC Input: | 12V/5A (Solar PV Charger) |
| LED Lamp: | 2pcs 3W with 5m Cables |
| Charging Time: | 15h ~ 16h by Solar |
| Working Time: | 8 hours (TV Only) |
| Size: | 735*435*13mm |
| Weight: | 6.32KG |
| TV Signals: | Option |

Product Picture Introduction: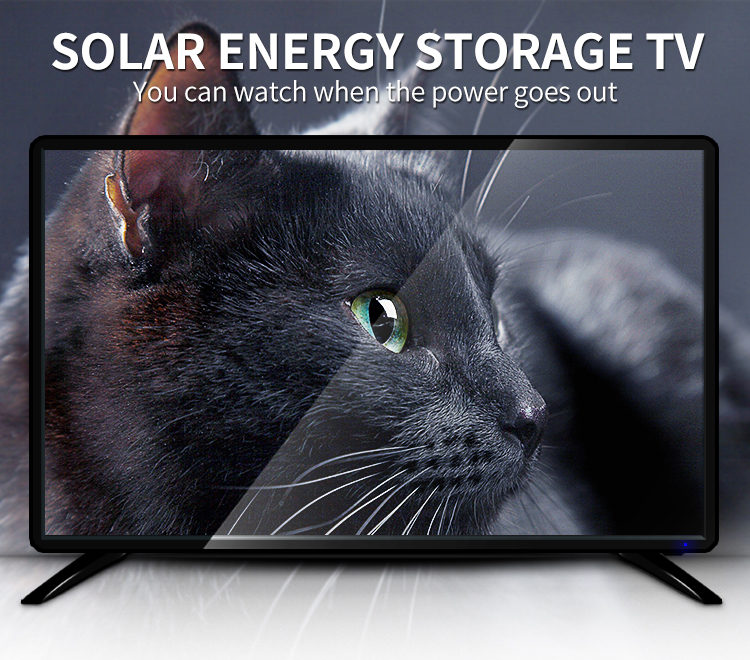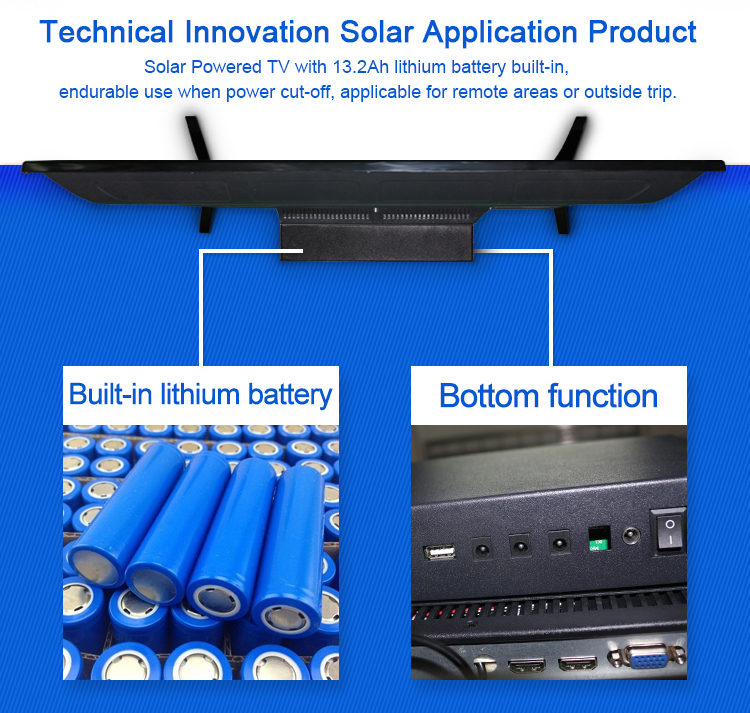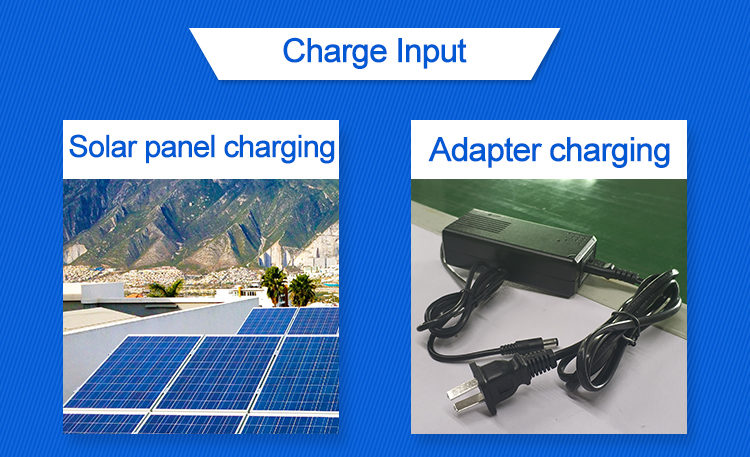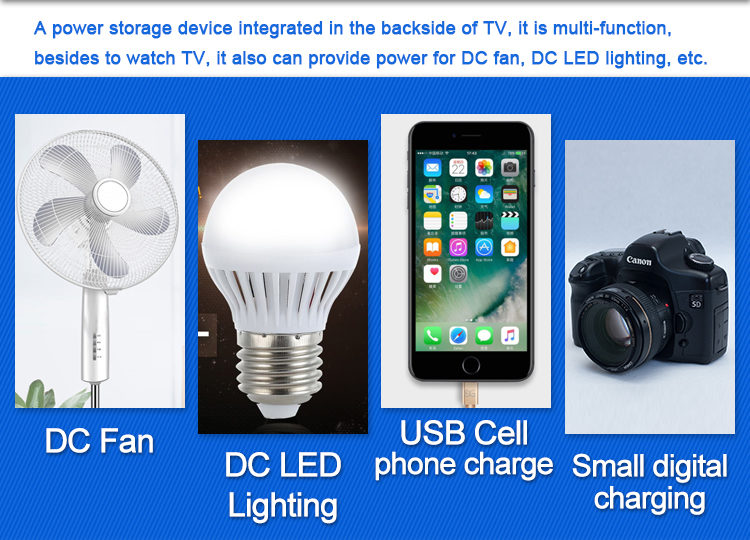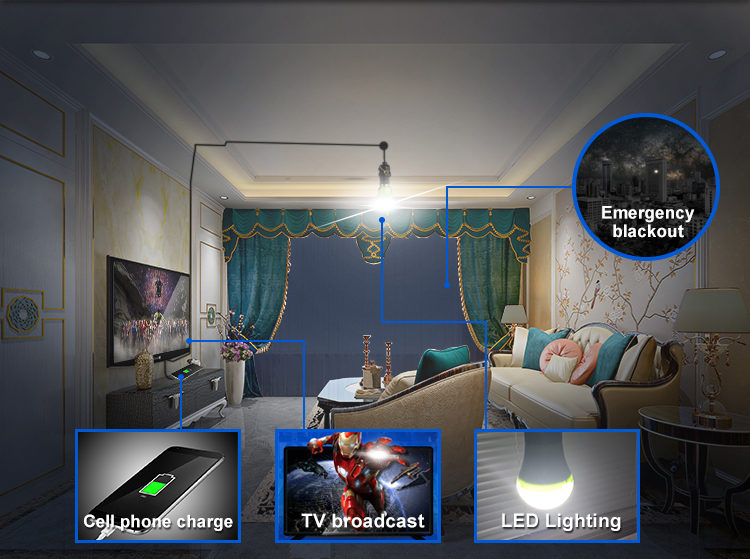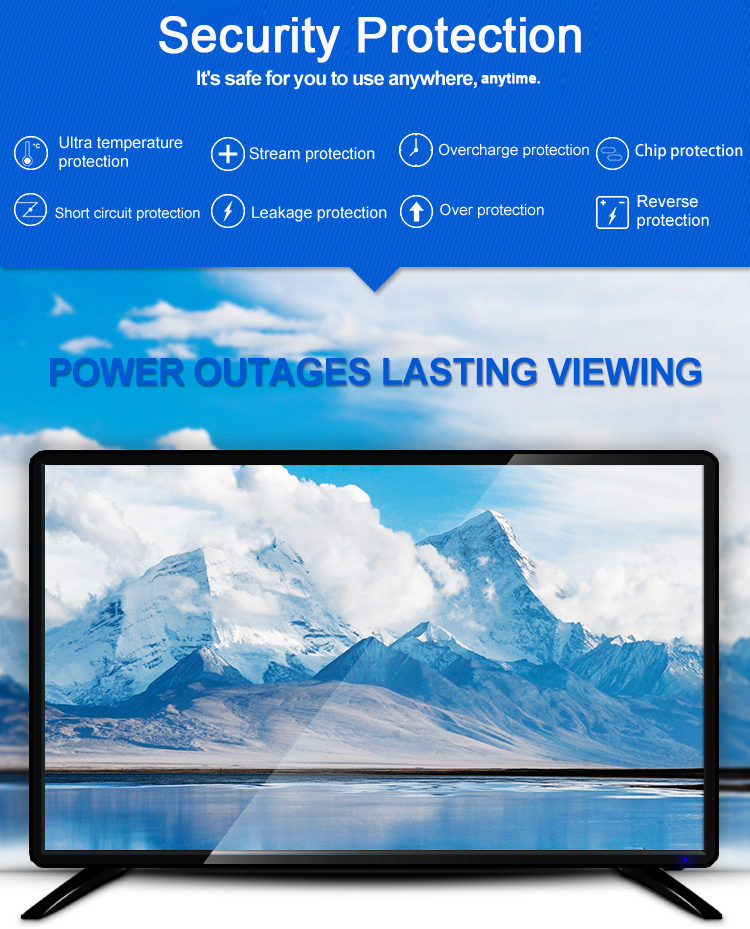 What can you do after buying this product?
You can watch football game, basketball game and play games, etc.