Why do we need buy portable solar power generator kit?
Currently, solar power generation is the most environmentally friendly type for power generator, its advantage is the resources of inexhaustible solar energy. Among solar power generation, portable solar power generator kit is a very practical power generation, it is popularly used in our daily lives.
Portable solar power generator kit is integrating solar controller, inverter and power storage, it converts sunlight into electric power which is an individually power generation system, it is a small solar PV generation system which has a high integration characteristic. The system can provide cleaning and free power energy for LED lamps, Television, Computer, Fan and Electric Drill, etc. It is especially applicable for remote areas, island, border post, outdoor rescue, various of fishing vessels and other areas where are shortage of power electricity. Now let us learn more about its composition.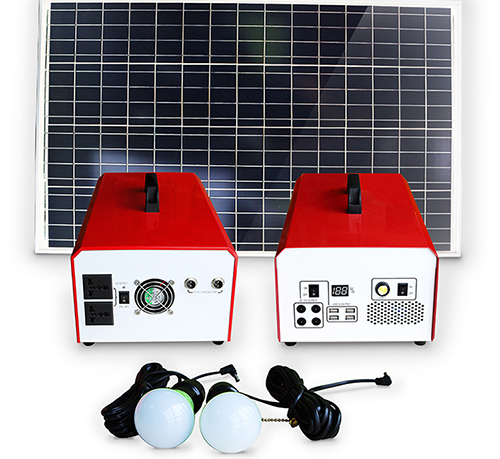 1. Solar Panel.
Solar panel is the core component for portable solar power generator kit, it is also the most valuable part in the solar power generation system. Its function is to convert solar radiation energy into electric power, transmitting to battery for storage, and provide power to work when the system is in need of it.

2. Solar Controller.
The function of solar controller is to control the working situation of whole system, and to protect battery from over-charging and over-discharging. The quality solar controller also has the function of temperature compensation in the big range of temperature districts. It also has other accessory functions, such as power switch for light-control and time-control.

3. Lithium Battery.
In order to conveniently carry, the portable solar power generator kit is to adopt lithium battery which has high storage density for power energy, it is 6~7 times of lead-acid battery. It has long circular lifespan, low self-discharge rate which can reach below 1% each month. It is slight weight which is one fifth ~ one sixth of lead-acid battery under the same cubage condition. It has a strong adaptability for high and low temperature, which can be used in -20℃~60℃ circumstance. Lithium battery is environmental protection, it doesn't have any lead, mercury and cadmium which are harmful heavy metal elements during production, usage and dumping reject. The function of storage battery is to store the electric power which is generated by solar panel, and being able to discharge for loads at any time when the system is in need of it.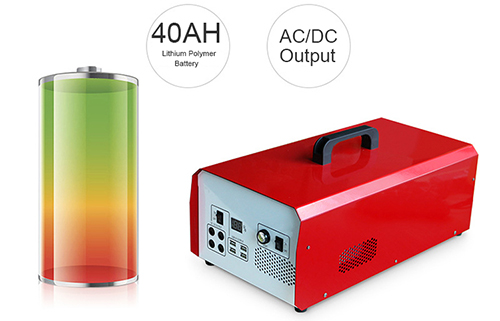 4. Solar Inverter.
In many occasions, we need use AC220V or AC110V for home appliances. As the directly output of solar panel is DC12V, DC24V and DC48V, in order to provide electric power for the AC220V/110V appliances, we need get convert the DC into AC, therefore, we need use DC-AC solar inverter. In the system of portable solar power generator kit, the host has integrated lithium battery and solar inverter which is easy to carry.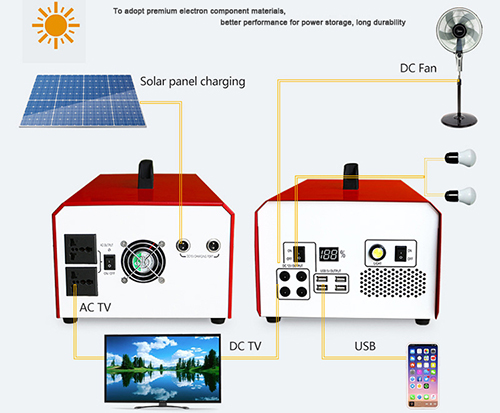 After leaning the basic components for portable solar power generator kit, we should understand that it is very common to be used in our daily lives. For example, in many remote countryside of China, the grid power electricity is very insufficient, the power-cut is very universal in this area, then the portable solar power generator kit is very useful for these areas, because it is an individually small solar PV generation system. Besides to use in the remote countryside, it is also required when we are going to travel, or we are planning to do the business in night market, or going to rescue in remote areas, etc. In a word, portable solar power generator kit is an essential power storage for residence.
Bingsolar, 7th, November, 2018