Does Solar Powered Street Light have Disadvantages?
Publish Time:2018/08/07 FAQ View:248
Solar powered street light is one of renewable energy applications, it is to adopt photovoltaic technology integrating LED light. There are many advantages for solar powered street light, and more and more traditional LED street light has been replaced by solar street light. It is environmental protection, energy-saving, safety and reliability, etc. Presently, solar powered street light has been widely applied for governments' projects, private projects, main lain projects and highway, etc.
Nevertheless, solar powered street light also has some disadvantages, it is not perfect solar products. Now let us talk about some disadvantages for solar powered street light.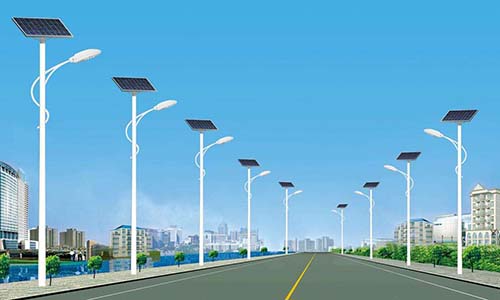 1. The Cost of Solar Powered Street Light is High.
Firstly, we should know that solar powered street light is high-tech lighting product, its cost is relatively high, usually, its cost is 3~5 times of traditional LED street light. Although there is no need to pay electric cost for its operation, its one-time investment is high, which is difficult to be accepted by some investors. In fact, its cost-performance is high in the long run, because it is easy to install, no need pave complicated cables, no need pay electric fee and maintenance free, etc. But some investors can't accept one-time high investment, that is the reason why most of solar powered street lighting projects are invested by governments.

2. It can't be powered if it doesn't have sunlight.
The working principle of solar powered street light is to getting through solar panel to absorb sunlight, then converting into electric power to store into battery. The battery provides power for LED lamp in night. Its working principle brings advantages for solar powered street light, but it also brings disadvantage together. For example, solar powered street light can't be used for the areas where is insufficient sunlight. In addition, if rainy or cloudy sustains too many days, its battery can't be charged by solar, then it can't bright in night. In terms of this disadvantage, most of manufacturers could allocate high battery capacity to backup for 2 ~3 rainy or cloudy days, few manufacturers have invented their own technology to support their solar street light to bright up to 10 rainy or cloudy days.

3. It has risk to be thieved.
The solar panel of solar powered street light is valuable, some thief would thieve it if the solar street light is installed in the remote area. Regards to this disadvantage, we should have sense to protect our solar lights after installation.

In a word, solar powered street light has above three disadvantages. However, it can save installation cost and reduce electric expenditure. Its advantage is over traditional LED street light in the long run. In future, the application of solar powered street light would be more and more wide, which would become the ideal lighting products for cities and countryside.
Bingsolar Power,  7th, August, 2018