What is price for stainless steel solar lawn light?
Publish Time:2018/08/03 FAQ View:149
With the technological improvement for decorative outdoor solar lighting, there are many materials to be adopted as the cover of solar lawn light, such as PC, aluminum and stainless steel, etc. To adopt stainless steel as the lamp housing is better to resist harsh environment for solar light. Stainless steel solar lawn light has been designed and it has got popularly welcome in market. Most of customers would like to select stainless steel solar lawn light for their own projects, but how much is it ?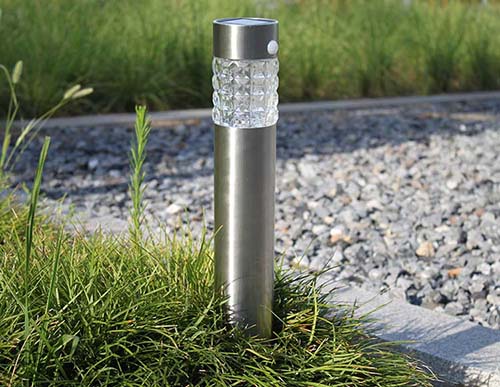 The price of stainless steel solar lawn light has been decided by LED chip (different brand LED chip has different price), solar panel and its lamp case. Usually, the price of stainless steel solar lawn light is US$14~US$20, this price would be influenced by the cost fluctuation of materials cost and labor cost in market. The design of solar lawn light is to superinduce security and beauty for urban green landscaping, its appearance is beautiful and lighting is soft. Stainless steel solar lawn light is convenient to install and decorate. It can be used for public, garden, villa and plaza, etc.

Back to its price, for some big power solar lawn light, price can reach around US$50, that is because big power should use more LED chips, at the same time, in order to provide more electric power to LED lighting source, solar panel should be enlarged, the capacity of lithium battery should be increased, and the lamp size should be enlarged as well. Therefore, for some solar lights, even if they just have 1W difference, their cost and prices would have big difference.

Currently, there are a lot of stainless steel solar lawn lights in market, and their prices are also complicated. It is difficult to distinguish which one is better just from its appearance. Because cost can be reduced from materials. For example, different brand LED chips have big different cost, different lampshade materials also have different cost even if their appearance are similar. Therefore, from my suggestion, customers should balance quality and prices when planning to purchase stainless steel solar lawn light. To select the optimal solar lights according to project requirement and budget restriction. If it is difficult to make selection, you can consult Bingsolar, then you would get a professional suggestion for project solution.
Bingsolar power,   3th, August, 2018