What is Solar Energy Lamp Integrated ?
Solar energy lamp integrated, also said as integrated solar street light, is integrated with high efficient solar panel, super lifespan lithium battery, high lighting effect and smart controller, PIR body-induction sensor module, installation with guard against theft.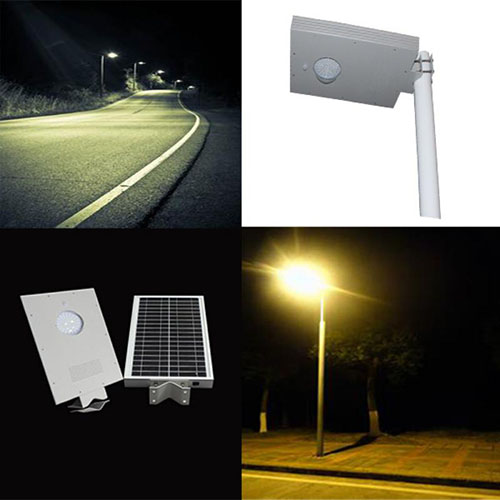 Working Principle:
Solar energy lamp integrated is via solar panel to convert sunlight into electric power, to charge the lithium battery which is inside the lamp integrated. In daytime, even in cloudy day, lithium battery storage the power which is from solar panel, to power supply for LED lamp in night, to realize night illumination, at the same time, solar energy lamp integrated has PIR body-induction function, which can control lamp working mode by smart body infrared induction in night, it is 100% lighting when someone passing by, it will auto light one of third after some seconds when nobody nearby, intelligent to save more energy. Meanwhile, solar power is bottomless supply of energy, it is factor under the developing of friendly environmental renewable energy.
Usually, solar energy is sunlight radiation, it is used for generator. With the decreasing of fossil fuel, solar energy got more development. The utilization of solar energy includes passive utilization and photovoltaic conversion. Solar energy is a new-style renewable energy. Broadly, solar energy is resources of numerous power in earth, such as wind energy, chemical energy and hydroenergy ,etc.
Solar energy street integrated lamp is an integrated solar product, its simple design has mixed the optimal green energy combination (solar panel, super brightness semiconductor LED light source, lithium iron phosphate battery) at present. It match smart body-induction sensor system, make it be low power consumption, long lifespan, super brightness, 8 years lifespan battery without maintenance.

Structural Composition:
The main composition of solar energy lamp integrated is integrated lamp (buit-in: high efficient solar module, high capacity lithium battery, microcomputer MPPT smart controller, super brightness LED light source, PIR body-induction probe, installation bracket with guard against theft), lamp-post.

Application:
It can be installed for various traffic route, auxiliary lane, village road, yard, mine lot and other areas where is not easy to provide public power.

Features of solar energy lamp integrated:
1) Easy to install, slight weight.
2) Power is from sunlight, save fossil fuel, protect energy in earth.
3) To adopt body infrared induction control technology, it would be light when someone pass by and auto to be weak lighting when someone leaving, which can extend brightness time.
4) To utilize high capacity and long lifespan lithium battery, to keep lamp lifespan, usually it can be used up to 8 years.
5) Wiring task free, very convenient to install.
6) Waterproof structure, safety and reliability.
7) It is very easy to extend its function, such as voice induction, timing, etc.
8) To adopt modularization design idea, easy to install, maintenance and repair.
9) To adopt alloy material as lamp body, it has better performance for rust protection, anti-corrosion.
Presently, solar energy lamp integrated is popular increasingly in market, it has replaced most of traditional LED lamp, such as solar street light, solar lawn light, solar flood light. Just need have sunlight, the LED lamp can be powered by solar power, it is cleaning and renewable energy, which is the developing tendency of energy.
Bingsolar Power, 6th, August, 2017