Do you Know What is Solar Flood Light ?
In order to know what is solar flood light, we should know what is LED flood light at first.

1. What is LED flood light ?
LED flood light is also said as spotlight, it mainly is used to illuminate and decorate building and commercial space, it has square and round shape. As the heat dissipation should be considered, its shape has some different with other LED Lights.

2. The Characteristics of LED flood light.
1) Most lighting source is to adopt 1.0W LED in market, each LED unit need match with high lighting-effectiveness lens which is made by PMMA, its main function is secondly to distribute the lighting of LED, that is so-said the secondary optical. Some companies are also to adopt 3W LED as lighting source because of their high technology to process heat dissipation, which is applied for large occasion illumination, such as to illuminate building, etc.

2) It is symmetry type narrow angle, wide angle and dissymmetrical lighting distribution system.

3) It is very easy to maintain.

4) Lighting angle can be adjustable. Its main application includes single building, the outside illumination of historical buildings, some lighting angle for indoor, landscape lighting decoration, advertising board illumination, medical culture or other equipment lighting, etc.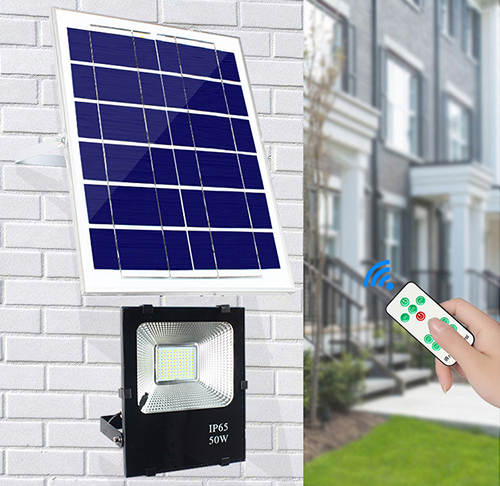 3. Advantages for LED Flood Light.
LED flood light is colorful, good performance for single color, soft lighting, low power, long lifespan which is up to 50000 hours. At the same time, the lamp-body of LED flood light is not big, easy to hid and install, not easy to damage, no heat radiation, it is good to protect its lighting object, widely application. It is easy to dissipate heat.
LED flood light is controlled by chip, it also can be controlled by wireless remote controller, brightness and timing can be adjustable, etc.

4. The installation of LED Flood Light.
LED flood light can be singly used, also can be used by combination of many flood lights to be installed on the lamp-post whose height is 20m, to form high post lighting fixture. This fixture has beautiful appearance and it can reduce to occupy large land area, its most advantage is to have a strong illumination.

Solar flood light also can be used for indoor, just need install solar panel outdoor and take LED lamp indoor. In order to furtherly improve its lighting output rate, most of reflector is to adopt the flat shape which is good to reduce lighting block.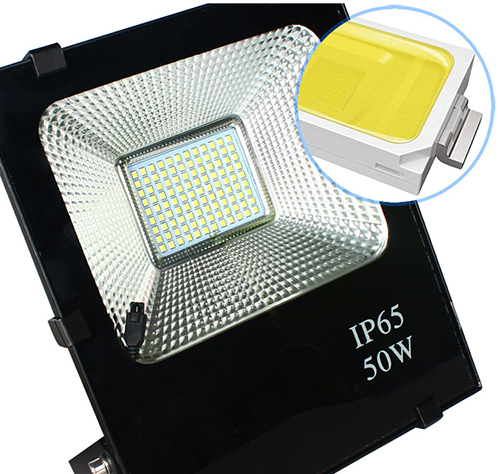 5. Components for LED Flood Light.
LED flood light comprises of optical component, mechanical part and electrical component. Optical component is reflector and transparent septa which can limit lighting beam. Mechanical part is outer shell, adjustable part which can fix and adjust lighting site, the bracket which can fix lamp, foundation, glass and sealed rubber, etc. Electric component is ballast resistor, capacitor and trigger.

1) It is to adopt strong shock resistance design, which is effective to solve these problems that LED lamp falling down, short lifespan, broken bracket because of strong shock.

2) Take high Efficient air discharge lamp as lighting source, its lifespan can be up to 10000 hours, especially being applied for outside area with unguarded.

3) LED flood light has better performance for electromagnetic compatibility, don't disturb electromagnetic in surrounding circumstances.

4) The whole lamp has better heat dissipation, which can reduce defective rate.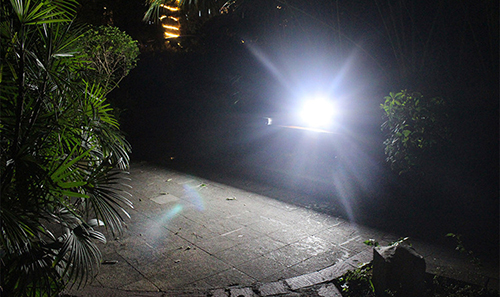 Solar flood light has the same performance with LED flood light, the big difference is that solar flood light is powered by solar, its separated solar panel can convert solar power into electric power in daytime, then the electric power would get through controller to store into battery. The battery would get through controller to discharge for LED lamp when it is in need of illumination. In addition, solar flood light is powered by low voltage which is also different with LED flood light, it is more safe to adopt solar flood light for outdoor or indoor illumination.
With the technological development, more and more customers have chosen solar flood light to replace LED flood light, which is good behavior, because there is no need to pay electric cost for solar flood light, and solar flood light is more easy to move and carry.
Bingsolar Power, 10th, July, 2018