What is advantage for LED solar lawn light ?
With the increasing development of solar lighting, LED solar lawn light is widely acceptable and widely applied, but still many people don't know more about it, always asking what is advantage for LED solar lawn light ? Here let us talk about this topic.

LED solar lawn light is an individual solar system, it can individually convert solar power into electric power, and convert electric power into heat energy for illumination or decoration, it doesn't need complicated cables to transmit. There are controller, inverter, meters, computer monitoring, other electric devices and battery or other storage devices and accessary generation devices. It is safety, energy-saving, convenient and environmental friend. It is widely used for resident, industry area to decorate.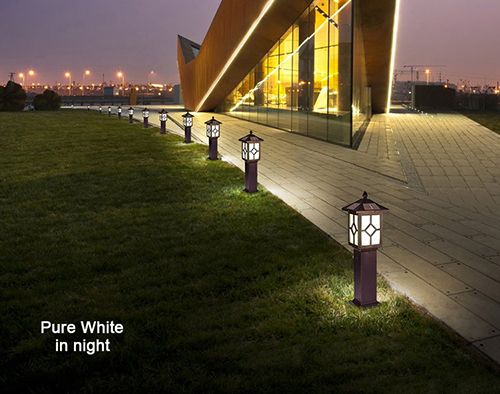 1. The System Components of LED Solar Lawn Light.
LED solar lawn light consists of solar panel. Super brightness LED (lighting source), battery with maintenance free, automatic-control circuit and LED lamp. Moreover, being similar with most of LED lawn light, there are many kinds of LED solar lawn lights, which can be utilized in all of landscape area to realize illumination and decoration.
It can convert solar power into electric power to store inside battery when solar panel is radiated by sunlight in daytime, then the battery discharge to provide power supply for LED lamp to work in night.

2. The Advantages of LED Solar Lawn Light.
1) Environmentally Friendly.
2) Easy to Install, Convenient, No Need Pave Complicated Cables.
3) Low Cost for Operation Maintenance.
4) No rotatable components, No Noise. No Air Pollution, No Waste Water Emission. No Burning Process, No Fossil Fuel to Burn, Easy to Maintain and Repair. Reliable Operation, Great Reliability. The lifespan of solar panel is long, the lifespan of crystalline solar cells can reach above 25 years. The power generation scale can be expanded according to requirement.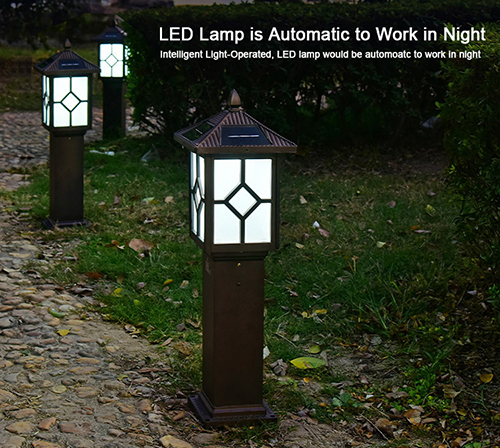 Above is introduction for the advantages of LED solar lawn light. Therefore, In order to make LED solar lawn light not only become illumination for green area, but also to create more art appearance.

Presently, LED solar lawn light is widely applied to decorate lawn, walkway, pathway, garden, courtyard and communities, etc. It brings a leisure and beautiful lives for citizens. It has become an indispensable when to plan a garden in Europe and Norther America. This decoration habit is also increasingly emerging in Asia areas, Such as India, Philippines, China, Thailand and Vietnam etc. China is the largest exporter for LED solar lawn light because China has sufficient raw materials, competitive labor and excellently advanced technology equipment. Moreover, State government has greatly pushed the development of renewable energy, especially for solar energy in China. In fact, most of Countries State Government have made a lot of policies to accelerate the development of renewable energy, solar power is above 80% among renewable energy, Especially for India and Thailand. With the technology improvement, Solar application products, including LED solar lawn light, will replace a lot of traditional lighting products, If Solar lighting could have become the main lighting source, the world would be more beautiful. Bingsolar always takes this responsibility to research new technology and design more and more creative and innovation solar lighting products, we will push solar industry development and beauty the world.

Bingsolar Power, 20th, May, 2018