What are main factors for solar LED garden landscape light being popular in market?
Publish Time:2018/10/30 FAQ View:190
Currently, there are a lot of outdoor solar LED lights being invented. Solar LED garden landscape light, courtyard light and lawn light are powered by solar energy. The solar panel charges battery in daytime and the battery discharges to provide power for LED lamp to work in night, there is no need to pave costly cables, the layout of solar LED lighting fixtures can be adjustable easily. Solar LED light is energy-saving, safety and no pollution, no need manual operation. Now let us talk about some main factors for the popular in market.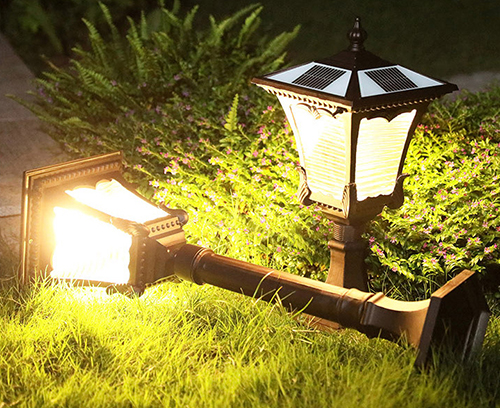 1. Energy-Saving.
The main advantage of solar LED garden landscape light is energy-saving, this is the reason why most of customers would like to purchase it for garden lighting project. The product which can convert sunlight into electric power can reduce the electric consumption. Nowadays, with the development of urban establishment, the solar LED street light is also mostly applied. The exploitation of solar LED lights can save reasonable electric power every day.

2. Environmental Protection.
Maybe some people would suspect that whether the solar LED light products would produce some pollution elements during manufacturing. It is proofed by science that there is no any harmful substance being discharged to pollute environment during its manufacturing. At the same timer, there is no radiation problem, which is coordinating with cleaning and environmental protection lighting product.

3. Safety and Reliability.
Solar LED garden landscape light is very safety, because it is powered by low voltage with DC, not AC, at the same time, there is no any noise to produce during its operation.

As above presentation, we can understand the reason why solar LED garden landscape light is increasingly popular in current market. On the one hand, we need decorate our surrounding for night appreciation, on the other hand, we want to save energy and reliable lighting product, therefore, solar LED garden landscape light is invented to meet the market demand. We are happy that solar Photovoltaic technology and LED lighting can be perfectly combined. The world would be brilliant because of solar LED landscape light.
Bingsolar, 30th, October, 2018