Should my villa install solar garden light for courtyard lighting decoration?
Publish Time:2018/09/21 FAQ View:158
As we know, some of villa is far away from urban center, because some proprietor would like to enjoy peaceful live. Usually, your villa has been planned completely before buying it. It seems like that you don't have to do more for your villa. But at some time, you might find that some areas need be decorated by lighting, some area where is your favorite is not perfect. Of course, you can ask the property developer to do it, but I think it would be better to make it by yourself. Because that would be easy if you select solar garden light, and there is various color lighting for option, you can mix them to coordinate with the circumstance of your villa.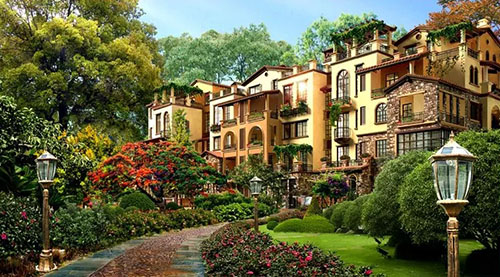 Now let us talk about what can be benefit if to install solar garden light for your villa.
1. Solar garden light is no need to pave cables, it is very easy to install, which has saved a lot of time for you.

2. Usually, the lighting mode of solar garden light can be customized according to your requirement, it can continue to bright all night, also can bright with PIR.

3. The appearance of solar garden light is beautiful, which coordinates with the environment of your villa, it has beautified your courtyard or backyard.

4. When you walk in night, solar garden light also can provide you illumination, you don't need hold a flashlight in hand, just need appreciate its night lighting landscape.

5. The lithium battery of solar garden light is charged by solar in daytime and solar garden light would turn on at night automatically, which is light-control to realize, there is no need hand to control. If it is made with PIR motion sensor function, when someone pass by, the solar lamp would be strong brightness, when the person leaves its sensor range, the solar lamp would be weak lighting automatically.

Therefore, as above briefly presentation, if you want to make your villa more fashion and colorful, my suggestion is to select solar garden light, because it is not costly and it is energy-saving, environmental protection and renewable energy lighting products, you would feel to live in a fresh ecological environment.
Bingsolar. 21th, September, 2018