What should we do if solar street light not work after installation ?
Publish Time:2018/03/30 FAQ View:336
Sometime when you find the solar street light not work after installation, please don't be worried, please check below: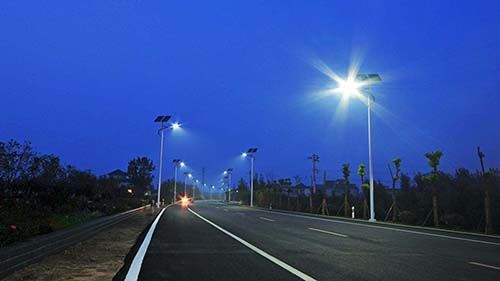 1) Check the control system of solar street light, controller is the core of solar street light. Red indicates it is still charging, flashlight indicates it has been full charged, it would be power loss if it is yellow.
At this time, you should check the battery voltage of solar street light, if the battery is no problem, please try to change a new controller to check. If it can work after changing a new controller, then you can confirm where is the problem. If the LED lamp no work, please check the wire connection.

2) If it is not controller problem, the next step is to check whether solar panel can charge normally. Usually, if solar panel can't charge, it would present no current, at this time, you should check the connector of solar panel.
After connection, please check whether having current in aluminum foil, you can confirm it is the solar panel problem if no current. If solar panel has current, you still need notice if having snow covering it to prevent its charging.

3) Battery is also easy to breakdown at some time. The battery that some manufacturers produce is not waterproof, which would cause short-circuit after entering water into battery to cause voltage not stable. Please carefully check battery when inspecting.
Voltage would be variable with depth of discharging, please change a new if it can't work normally.

4) At the last, please check if having any damage in circuit. If insulating layer has some abrasion, it would be short-circuit after current conducting in lamp-post, then LED lamp no work. If the solar street also work in daytime and it can't be turned off, then it might be components of controller having been burning-out.

Above is some detection methods to check solar street light problem, if finding any problem, please don't repair it by yourself if you are not professional, please consult your supplier or other professional persons to repair.

Bingsolar Power, 30th, March, 2018