How many years can decorative solar LED courtyard light work?
Publish Time:2018/08/28 FAQ View:156
With the rapid development of solar industry in recent years, solar lighting industry also has got increasingly popular in market, especially for solar street light, decorative LED courtyard light and solar wall light with motion sensor, etc. With the improvement of resident's lives, decorative LED courtyard light has become indispensable lamp for them to enjoy night lighting landscaping. For many of customers, they want to purchase decorative LED courtyard light for their surrounding lighting, but they don't know how many years can this light work. In fact, it is difficult to tell how many accurate years for a solar courtyard to work, but we can estimate its lifespan according to the characteristics of its components.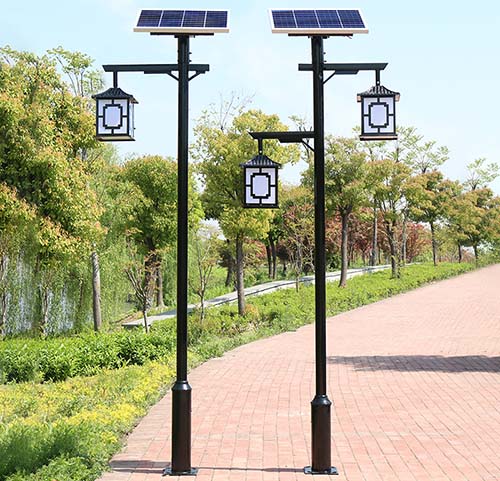 1. Solar Panel.
Solar panel can be classified as polycrystalline silicon and monocrystalline silicon, usually, the efficiency of monocrystalline silicon solar panel is higher that polycrystalline silicon, while its manufacturing process is more complicated and cost is higher than polycrystalline silicon. Solar panel is the core components of decorative LED solar courtyard lighting system. It is to convert sunlight into electric power. The lifespan of solar panel can reach up to above 25 years. The lifespan of 25 years means that the degradation of solar panel would reach about 80% after working 25 years.

2. Lamp-Post.
As the lamp-post is processed by hot galvanizing, it is very stiffness, usually, its lifespan can reach up to 30 years.

3. LED—Lighting Source of Decorative Solar Courtyard Light.
Currently, the lighting source of decorative solar courtyard light is LED, there are many famous brand for LEDs, such as Epistar, Cree, Osram and Bridgelux, etc. Different brand LED has different Lumen, and their prices also are different. But in terms of its lifespan, its lifespan is above 50,000 hours, for example, if the LED works for 10 hours each day, then its lifespan is at least 10 years.

From the components of decorative LED solar courtyard light, we can understand it can be used for many years, it is very suitable for outdoor lighting or decoration. Besides its inner characteristics of decorative LED solar courtyard light, its lifespan is also relative with manufacturers, if your suppliers adopt low cost materials to make the solar light, its lifespan would be shorter, therefore, it is also important to find a reliable manufacturer for decorative LED solar courtyard light, so that its lifespan can get guaranteed.
Bingsolar, 28th, August, 2018