How Much is for 3W Solar LED Garden Light ?
For 3W solar LED garden light, it is mainstream in current market, more and more manufacturers make a lot of investment to produce 3W solar LED garden light to get more benefits. With the improvement of production technology and mature, more and more solar LED garden lights are entered into market, and its cost also get decrease because of large-scale production. However, there is too much prices in market for 3W solar LED garden light, of course price is different. In order to get more market share, more and more manufacturers make their own characteristic to attract customers, but some manufacturers to produce low quality solar garden light by low cost materials. Usually, the price of 3W solar LED garden light is reasonable between US$26 and US$140 per set. The operation of solar garden light don't need consume cost, which is a disposable investment.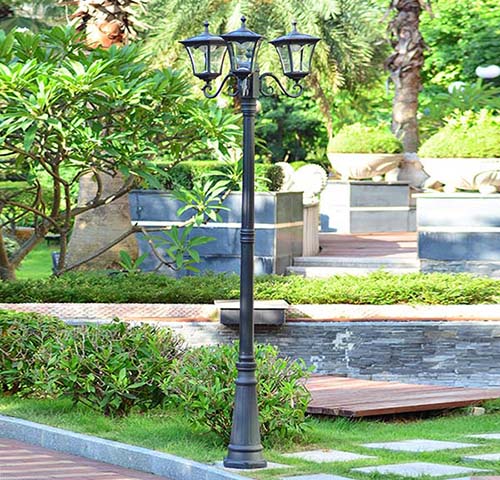 This is a good allocation to make city establishment, the appearance of 3W solar LED garden light is also beautiful, it would increase the city landscape, and it is also economy. In addition, Its price is different for different manufacturers, because of different materials and different craft. Nowadays, a lot of traditional LED lights have been replaced by solar LED garden light, as the idea of energy-saving, environmental friendly and renewable energy, solar LED garden light is increasingly popular for courtyard, public garden, community and villa, etc.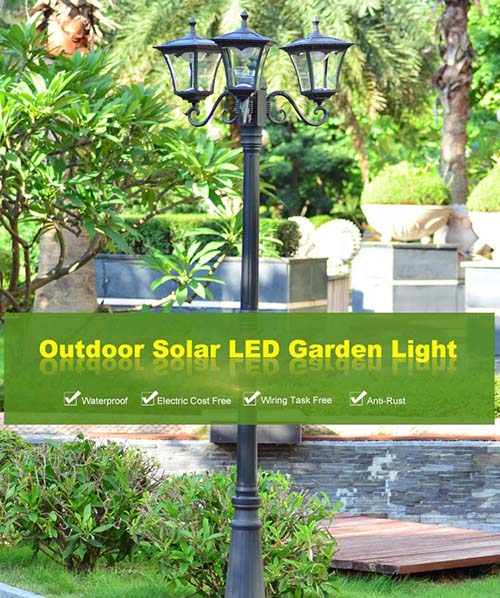 It is also easy to install 3W solar LED garden light, but should notice its installation distance and angle, which has decided its quantity request, besides to mention its installation distance, we also should know about its allocation.

1. Solar LED garden light comprises of monocrystalline or polycrystalline solar panel, bracket, lamp-post, lamp head, light source (lamp body), battery, embedded part, etc.

2. The difference of Solar LED garden light and Traditional LED garden light.
With the development of renewable energy, it has been popular for solar energy and wind energy. Especially for solar LED garden light, solar LED street light and the application of solar PV power station, which has largely decreased the emission of Carbon Dioxide, to reduce the consumption of coal.
Just from appearance, the big difference for them is that the head of lamp-post of solar garden light support solar panel to convert solar power into electric power. While traditional garden light is powered by State Grid.
Solar garden light is one time investment, long term to produce revenue, while traditional garden light would consume grid power, electric cost should be paid, and the cost of maintenance is also higher than solar garden light.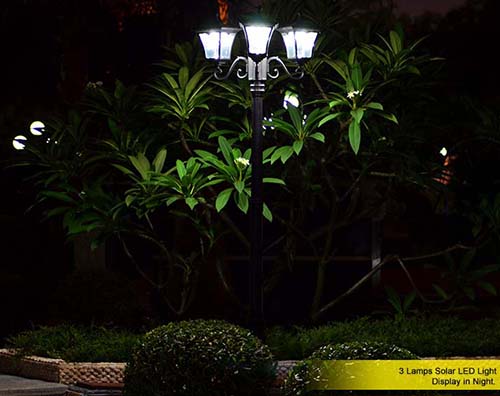 As mainstream in market, 3W solar LED garden light is the first consideration for lighting decorative projects, no matter it is from its illumination, or from its cost, it is affordable for most of consumers. Usually, the lamp-post is 2-3m. Usually, the power of solar LED garden light is not high, because its top area is limitation, the beautiful appearance should be considered when making design a solar garden light. It should coordinate with garden or courtyard landscape, to satisfy the effectiveness of decoration and illumination.

When to decide to purchase a solar LED garden light, customers should balance prices with quality, to make choose according to their budget, consultant professional solar lighting designer to make a better allocation according to their budget and requirement, which would bring them the best effectiveness with their limitation budget.
Bingsolar Power, 22th, June, 2018