Why does LED lighting be chosen as projects for night landscape?
With the gradual improvement of human's living standard and the technological development, nowadays, citizens are pursuing more beautiful landscaping night lives. The night landscaping projects are to utilize outdoor lighting to illuminate the outside of garden, ford, building and trees, etc. It has the function for illumination and artistic decoration, to beautify environment. It is essential projects for landscaping lighting in urban establishment, and more and more residents have used LED lighting for their front door, garden, courtyard and backyard, etc.


Why can LED lighting become mainstream for night landscape projects? Now let us talk about some reasons.
1). Its lighting is better and more brightness.
The main function of landscape lighting is safety and ornament, LED lighting is taken as the most brightness lighting source, its luminous flux can be up to 170LM~180LM/W, and it can provide reliable lighting source. Moreover, LED is not easy to explode or break under the condition of over-heat or short-circuit.

2). Environmental Protection and Energy-Saving.
LED doesn't have any infrared and ultraviolet ray, it doesn't have mercury and other poisonous elements. In addition, LED lighting accords with the criteria of ROHS standard, which means LED is safe lighting. In contrary, metal halide lighting has high cadmium and ultraviolet ray, while fluorescent lamp has mercury. As most of landscape lighting is closing to natural water and trees, LED is the first choice.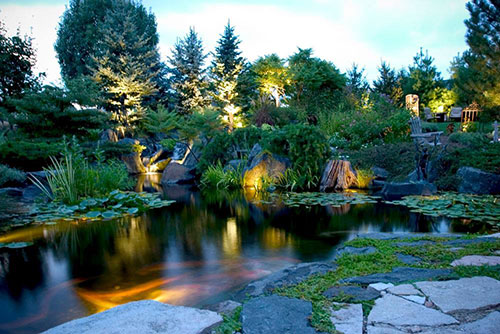 3). Low Maintenance Cost.
The quality and durability are very important for LED landscape lighting, because more of projects are to install LED lights in the area of soft water, some LED lights need be installed underwater, such as LED swimming lamp. It is a bit of difficulty to change if the lamp is broken. LED has long lifespan and LED lamp has high waterproof sealed, it is not easy to break, and LED lamp is easier to maintain than other lighting source even if lamp has problem.

4). Low Voltage to Operate.
Most of LED voltage is under DC4V, in order to keep it work in the circumstance of AC220V, we can use power supply to reduce voltage, then convert AC into DC. It is suggested to work the lamp which is installed underwater as low voltage, which can avoid dangerous risk. For traditional lighting source, the special-made reverse circuit need be adopted to improve its voltage, which converts DC into AC, this would decrease the safety and lifespan of lamp, and increase lamp cost. Therefore, LED is better choice for more safety, low voltage to operate.


LED lighting source is ideal choice for landscape projects, because it has high CRI and more color temperatures can be option. The improvement of plastic technology, photology and LED integration have become the perfect foundation. In order to make the most use of LED lighting source, the technology of solar Photovoltaic has been integrated to become solar lighting system, and solar LED lighting is increasingly popular in market. Currently, the technology of more solar LED lighting has got mature, such as solar garden light, solar flood light and solar street light, etc. More and more technologies have been used for LED landscape lighting source, such as motion sensor, intelligent control, time-setting and MPPT, etc. We can imagine that more and more technologies will be invented to integrate LED lighting source in future according to market request. We are facing the technological improvement day after day.

Bingsolar, 28th, March, 2019