What is effect for LED solar landscape light?
Publish Time:2018/09/11 FAQ View:166
LED solar landscape light is an indispensable part in modern landscape decoration, it not just has high appreciation value, it also would coordinate with the history of tourist spots and surrounding environment. LED solar landscape light is to adopt its different styles, different color and brightness to create colorful landscape. For example, The LED solar landscape light with red lantern design can bring happy atmosphere for plaza, green coconut LED solar landscape light can bring a freedom atmosphere beside pool. LED solar landscape light is applied for plaza, inhabitants and public green areas, etc.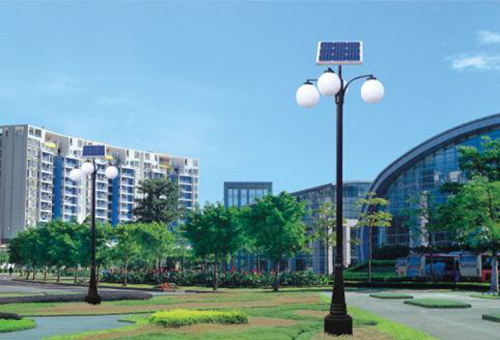 The main effect of LED solar landscape light is to provide lighting and decoration for residence community, public garden, campus, garden, villa, Zoo and arboretum, etc. It has the characteristics of landscape effect and lighting effect. It is specially applied for landscaping projects and public garden decoration.

The height of LED solar landscape light includes 2.5m, 3m, 3.5m, 4m, 4.5m and 5m. Other height requirement also can be customized. The diameter of lamp-post includes equal channel angular 115mm, 219mm and reducing 140-76mm, 140-89mm, 165-76mm, 165-89mm and 165-115mm.

The lamp head of LED solar landscape light is die-cast aluminum, some lamp head is also made by copper or aluminum alloy. Currently, Aluminum material is the mainstream in market, other materials are made by handwork, cost is very high. The transparent component is to adopt acrylic plate or PC plate, these materials have good performance for transparency, antioxidant, ultraviolet resistance, not easy to be yellowed and long lifespan. The materials of lamp-post is to adopt aluminum or steel materials, its outer surface is processed by galvanized spray to antirust and anticorrosion, its ordinary surface is to adopt carbon fluorine paint to add UV resistant powder, it progressively strengthen the lamp-post to anticorrosion and antirust. The appearance color of lamp-post can be customized according to customers' requirement.

In a word, the effect of LED solar landscape light is luminous and decorative, it has become one of important lighting decoration products for urban establishment. With its technological development, I have confidence that every family would have some in their courtyard or backyard.
Bingsolar, 11th, September, 2018