What is basic requirement for solar street light?
Publish Time:2018/08/10 FAQ View:214
Generally, there are three requirements for solar street light, one is to guarantee the illumination quality of lighting source, the second is that the solar system would be stable to work, the third is that the controller should ensure lifespan.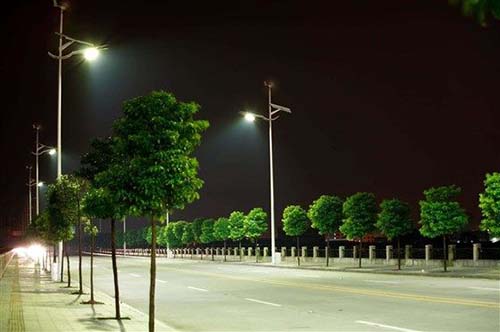 1. In terms of lighting source, LED is the best option, which can reduce the loss in energy, moreover, its lighting-effectiveness is better than traditional lighting source.

2. Regards to system configuration, it should ensure reasonable design and quality, which can make sure the operation more stable and durable.

3. The last, let us talk about solar controller. Controller plays a very important rule in the system of solar street light, so the parameter design of solar controller should be correctly made to guarantee it being able to coordinate with the operation of solar panels and other components.

In order to ensure the reasonable development of road illumination, when solar street light is installed for road lighting, it should guarantee stable and reliable lighting requirement, it is also energy-saving to realize environmental protection. Therefore, Customers should learn more about solar street light manufacturer when planning to purchase.

Maybe many customers would confuse where to buy solar street light. Presently, there are many manufacturers for solar street light in the world. In fact, China has comprehensive solar lighting industrial chain and advanced technology. Maybe many customers would be worried about quality, in fact, there are a lot of solar street lights sold in market, and prices are complicated, customers would learn more about the manufacturer when planning to order. The best choice is to visit factory and negotiate by face to face. With many years effort, China has possessed absolute advantages. Customers don't always just pay attention to prices, the quality is the same importance. To visit factory and check how to control quality, and how to save cost, to learn the reason why it is the price, why you can get lower price from market. The main reasons of prices difference are materials, design, configuration and technology. If you have learnt more about these factors for manufacturer, then you would know how to make decision. You can balance quality and prices according to your project request and budget.
Bingsolar, 10th, August, 2018