Why LED solar landscaping light can be viewed everywhere?
Publish Time:2018/08/17 FAQ View:171
Why LED solar landscaping light is widely applied for outdoor decoration? Has it many advantages? Presently, LED solar landscaping light is increasingly popular in market, especially for real estates, middle and high-end private residence, the market demand is very large. Now let us talk more about LED solar landscaping light.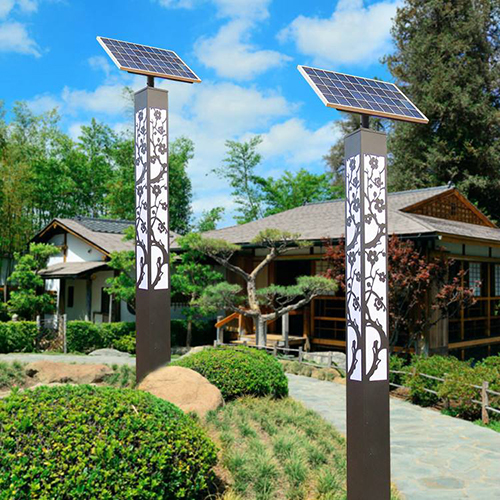 1. Long Lifespan.
The technology of LED solar landscaping light is advanced, its control system and accessories are to adopt superior materials to make. It is intelligent design with reliable quality. Its lighting source is LED whose lifespan is up to 100,000 hours. The lifespan of solar panel is above 25 years. The lifespan of lithium battery is around 3 years. Lithium battery can be changeable if the battery would be broken after some year.

2. Small Investment.
One-time investment, long-time to use, no need pay electric cost, no need pave complicated cables, maintenance cost is very low. The main function of solar landscaping light is to decorate garden or courtyard, it doesn't need too much investment.

3. Intelligent Control.
The core component of LED solar landscaping light is smart controller, it can be set as self-control, time-control for power, LED lamp can turn on at daytime and turn off at night automatically.

4. Various lighting color and appearance styles.
LED solar landscaping light has many different appearance styles and lighting colors, it can decorate garden or public occasions according to its characteristics. LED solar landscaping light is applicable for plaza, communities and public green areas, etc.

LED solar landscaping light already becomes an indispensable part for modern lighting decoration. It not just can be appreciated; its artistic appearance also coordinates with the history and circumstance of tourist spots. Our urban scenery is more beautiful because of LED solar landscaping light. In addition, traditional LED landscaping light need consume grid power, now LED solar landscaping light just need have sufficient sunlight, it brings a cleaning and fresh air for our residence. The reduction of fossil fuel exploitation is the great achievement that solar LED landscaping light make. Now let us create a brilliant future together.
Bingsolar, 17th, August, 2018