Reveal the Secret of Solar Powered LED Garden Light
Solar powered LED garden light is powered by solar radiation, its solar panel converts solar power into electric power to charge battery in daytime, the battery provides power supply for LED garden light in night, no need pave complicated cables, its layout can be adjustable at ease, safety and no pollution, intelligent control to charge battery and power switch, no need hand to operate, operation is reliable and stable, save electric cost, maintenance free.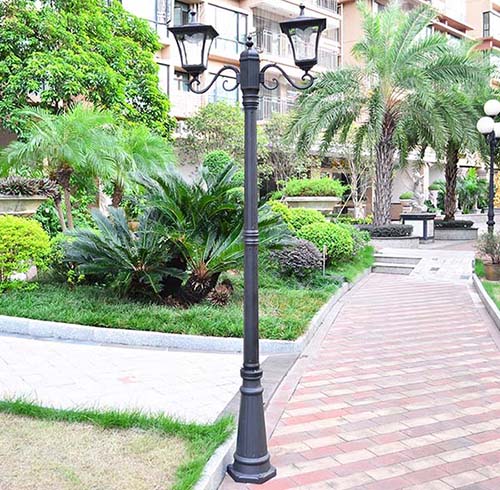 The power of solar powered LED garden light equals to inorganic lamp of 70W incandescent brightness, height of lighting pole is around 3m, lamp lifespan is above 20,000 hours, solar panel can adopt polycrystalline or monocrystalline, intelligent light-operated control. The lighting system can anti-typhoon, resist moisture and anti-ultraviolet rays etc. Lighting system can work 4 to 6 hours under -40℃~ 70℃ circumstance. If it is continuous rain, the surplus power could be stored into battery, the battery can backup for 2-3 days to keep LED garden light normally work.

Scope of Application.
Solar Powered LED garden light comprises of solar module which is made by monocrystalline or polycrystalline silicon, PV mounting, Lamp-post, Lamp head, specialized LED lamp, battery, battery box and embedded part, etc. LED lamp is colorful and varied in postures, it can work around 8 hours each day. Solar powered LED garden light can decorate courtyard, public garden and pleasure ground, etc. It also can be customized according to request.

Product Parameter.
Material: Lamp-post is steel structure, entirety is hot-galvanize and spray-paint process.
Solar Module: Polycrystalline or Monocrystalline Silicon Solar Panel.
System Working Voltage: DC12V-24V.
Controller: Specialized PV controller, light-operated + Time Control.
Storage Battery: Full Sealed Lead-acid battery with maintenance free or Lithium battery.
Lighting Source: LED or high efficient energy-saving lamp.
Waterproof: IP65.
Working Temperature: -30℃ to 70℃.
Lighting Time: It can be adjustable according to request.
Height of Lamp-Post: It can be customized according to requirement.
Autonomy: Battery backup can keep 2 to 3 days for rain, also can be allocated according to request.
No need pave underground cables, no need pay electric cost, all of its components, solar panel, intelligent controller, battery, lamp head, have got through serious quality control. Solar powered LED garden light is mainly applied for cities roadway, community plaza, industrial park, tourist spot, park green belt, etc.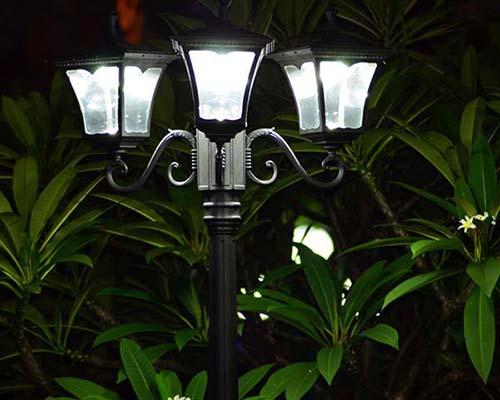 Working Principle.
After being radiated by sunlight, solar panel would converts solar power into electric power to have current, getting through controller to charge battery in daytime. Battery discharge for LED lamp to work in night.

Performance.
Solar powered LED garden light is powered by solar, no need hand to control, it would be automatic to work. Solar controller is to adopt the design integrated by light-operated + time control, waterproof and cold-proof. Lighting source is to adopt specialized LED chips, high efficient lighting, operation lifespan is above 50,000 hours. Lamp-body is to adopt Q235 premium steel materials, surface is processed by galvanized spray and anti-corrosion, rust-proof, durable degradation, smooth surface, anti-typhoon above class 9.
Solar powered LED garden light is decorative product, its design type is fashion and simple, or classical and romantic, or beautiful and imposing. It is widely applied for garden landscape, cultural entertainment plaza, pedestrian, shopping street, residence community, sides of driveway, etc.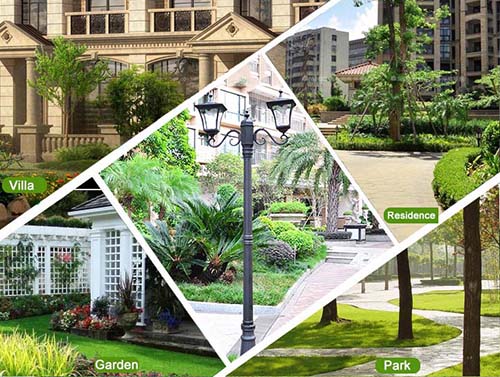 Advantages.
Super Long Lifespan.
Semiconductor chip to light, durable lighting time, lifespan can reach above 50,000 hours, while the lifespan of ordinary incandescent lamp is just 1000 hours, ordinary energy-saving lamp is just 8000 hours.

Environmental friendly Lighting Source.
LED lighting source don't have Ultraviolet rays, no radiation, while other ordinary lighting has ultraviolet and infrared ray.

Environment Protection.
Solar powered LED garden lights don't have mercury and Xenon which are harmful gas, it is benefits to recycle and utilize, don't have electromagnetic interference.

Eyesight Protection.
It is driven by DC, don't have strobe light, while ordinary light is driven by AC, it would produce strobe light.

High Efficient Light Quality.
There are 90% electric power to converts into visible light, while there are 80% of electric power of ordinary incandescent lamp to converts into heat energy, just 20% of them to convert into visible light.

High Safety Guarantee.
To adopt low voltage for power supply, it is more reliable and safety, long lifespan, it also has anti-theft function, to enhance lamp-body security, it also can be used for mine site.

Market.
Low voltage to drive, just need battery and solar panel, no need inverter. It can be used for remote area and camping. It has perfectly combined its function and decoration. It has got popularly welcome in market. More and more lighting projects are consider to adopt solar powered LED garden lights.

Bingsolar Power, 14th, June, 2018