Does Solar Powered LED Garden Light have disadvantage?
Publish Time:2018/09/07 FAQ View:161
Currently, solar powered LED garden light has increasingly popular in market, it has been widely used for outdoor landscape lighting decoration. No matter it is for private projects or government's projects, solar powered LED garden light is also paid more attention by the investors, because nearly everyone has known about its advantages, for example, it is environmentally friendly product, high security guaranteed, no potential safety hazard, no polluting environment, and it can be recycled to utilize. In addition, its lighting beam is soft, long lifespan, high light-effect and maintenance free, etc. But does it mean that solar powered LED garden light is a perfect product, no any disadvantage? Of course, it doesn't, in fact, solar powered LED garden light also have many disadvantages, now let us introduce you these disadvantages.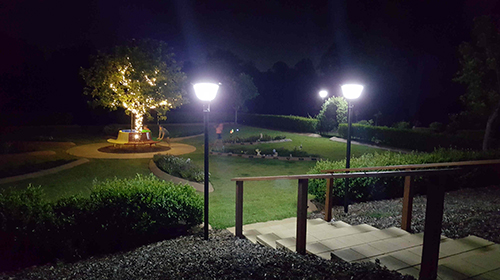 The disadvantages of solar powered LED garden light.
1. Instability.
As sunlight intensity is limited by day and night, seasons, geographic latitude and the height of altitude, and influenced by sunshine, cloudy, rainy, etc, therefore, the solar radiation which reaches ground is discontinuous and instability, which has increased the difficulty for large-scale to exploit solar energy. In order to make solar power become continuous and stable energy, power storage has been used, it can store the power which is generated by solar panel in daytime into battery, and provide power supply for LED garden light to work in night, but the exploitation of storage battery still need high cost.

2. Low Efficiency and High Cost.
In terms of the development level for the exploitation of solar power, some aspect is available in theory, technology is also mature, but some exploitation device of solar power is low efficiency and high cost, its economy is still less traditional energy.

In summary, solar powered LED garden light has advantage, also has its limitation. However, its advantages of utilization is higher than the disadvantages of its limitation. That is the reason why solar powered LED garden light has paid more and more attention for private projects or government's projects. We have confidence that more disadvantages of its limitation will be solved by the development of technology.
Bingsolar, 8th, September, 2018