Why Lithium Battery LED Solar Street Light is More and More Welcome in Market ?
With the improvement of technology, the application of battery is more and more wide in our lives. Maybe many people have noticed that more and more solar street lights are lithium battery built-in, these lithium battery LED solar street lights provide illumination for night. Now we might notice that the battery of LED solar street light is not just Lead-acid battery and gel glue battery, lithium battery is also more and more popular. Why so many people want to choose lithium battery LED solar street light for their projects ? Why lithium battery is faster to be accepted for solar LED street light even if its price is higher than Lead-acid and gel glue battery ? Now let us talk about these reasons.

Firstly, when we talk about lithium battery solar street light, we should compare lithium battery with lead-acid battery. As we know, the size of lead-acid battery is bigger, and if to adopt lead-acid battery for solar LED street lights, the Lead-acid battery pack must be made, and the Lead-acid battery pack is big size, it is to cause a little of complicated installation, and it should excavate a hole for embedded part in advance. On the contrary, the size of lithium battery is very small, and weight is slight, it is very easy and convenient to install. At the same time, the power storage density of lithium battery is higher than lead-acid battery, even it is up to 6 to 7 times of lead-acid battery. Under this comparation, lithium battery has many advantages over lead-acid battery.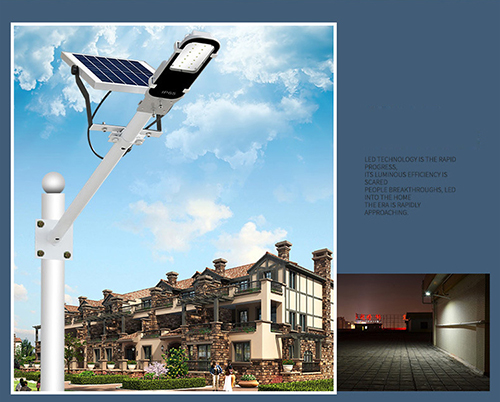 In addition, nowadays, the environmental friendly and energy-saving have got more and more attention. Cleaning and Fresh lives have catered more and more people's requirement. It is inevitable to install LED solar street light in small towns or medium and big cities. So, the large-scale application of LED solar street light should consider energy-saving and environmental protection. However, Lead-acid battery belongs to heavy metal pollution, it would produce large of contamination after utilization, and the lifespan of lithium battery is more longer than lead-acid battery. Lithium battery is non-pollution, it has a long lifespan, that is another reason why lithium battery is more and more accepted for LED solar street light.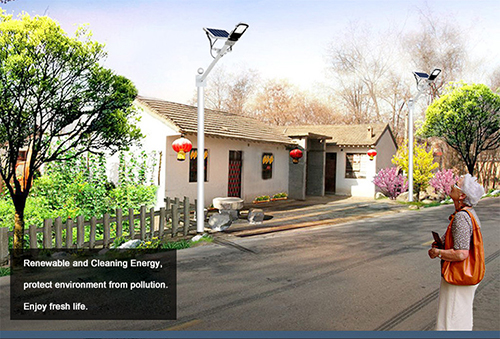 Lithium battery LED solar street light is applied for cities roadway, plaza, tourist spot, resident communities, industrial area, public garden, village road, remote area, etc. The lighting source of lithium battery LED street light is high efficient LED chips, it is a high performance semiconductor material, it is high lighting-effectiveness, its lifespan can be over 50,000 hours, luminous flux is over 100lm.

There are many advantages for lithium battery LED solar street light.
1) It is powered by solar, energy-saving and environmental friendly.
2) Its component is simple and convenient, easy to install, no need pave complicated cables, no need have many infrastructures, just need confirm installation site. Controller and all of cables are built-in.
3) Lighting source is high efficient LED, long lifespan and energy-saving. Whole LED lamp is low voltage to work, more safety and reliability.
4) Lithium battery LED solar street light is intelligent control, no need hand to control. LED lamp would be automatic to work in night, lighting time and mode can be set through controller.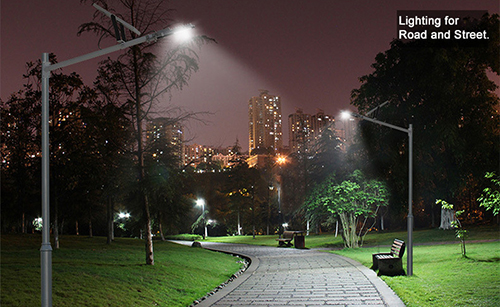 Lithium battery LED solar street light is one of five critical technological fields in the 21th century global economic development. Solar power is a cleaning, high efficient and inexhaustible energy. World Countries Governments take the capital use ratio of solar energy as the important constituent part of sustainable development strategies. It would produce capital efficiency only if having sunlight, even if it is in rain, Lithium battery LED solar street light also can sustain to work 2 or 3 days, to bring benefits for capital.

As above presentation, I know now it can be understood that the reason why lithium battery LED solar street light is more and more welcome by market.

Bingsolar Power, 17th, June, 2018