What Should be Noticed When to Install Outdoor Decorative Solar Landscape Light ?
Publish Time:2018/07/02 FAQ View:210
Outdoor decorative solar landscape light is a kind of popular solar application products, it is used to decorate garden, plaza, lawn, communities, etc. It already becomes necessary for landscaping projects in Europe, Norther America and Australia, etc. With the increasing popularity of solar landscape light, more and more customers can install the lights by themselves, now let us talk about some notification when to install outdoor decorative solar landscape light.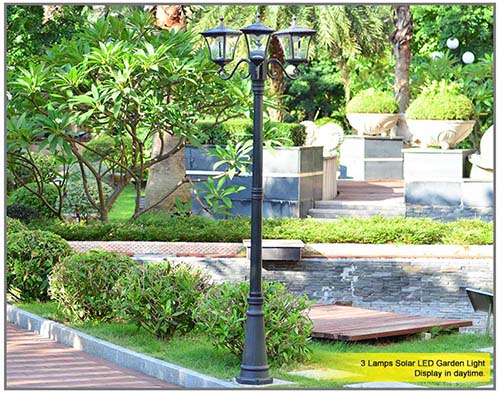 1. Firstly, need notice this orientation of solar panel, it should orient South (for the Countries of Northern Hemisphere). Solar lighting fixture should be installed under sufficient sunlight.

2. The basic foundation construction of lamp-post should be enough strength, embedded part should be reliable and suitable for lamp holder.

3. The solar landscape light should be installed in this places where is no big building, and no any shadow from trees, sunlight should be sufficient.

4. Should be seriously according to installation manual to install solar landscape light, please do not disassemble lamp by yourself, which could influence the utilization of outdoor decorative solar landscape light and its lifespan.

Correctly to install outdoor decorative solar landscape light can prolong its lifespan, and the same time, it also can improve its utilization rate, to make the most use of its function. Decorative solar landscape light not only bring the lighting decoration to cities, it also bring fresh lives to human being. As we know, traditional solar landscape need consume a lot of grid electric power, while solar light can save a lot of electric cost. Outdoor decorative solar landscape light can be installed in anywhere only if having sufficient sunlight, it is environmental friendly, it can reduce the exploitation of traditional energy source. Solar power is inexhaustible, it can bring forever energy to human being as so as it can be exploited to provide electric power for lighting.
Bingsolar Power, 2th, July, 2018